Acid Shaders 1.18.2 → 1.12.2
Acid Shaders is a Minecraft Shaders that does not heavily focus on graphic enhancement but distorts the blocks in the distance and makes them look psychedelic.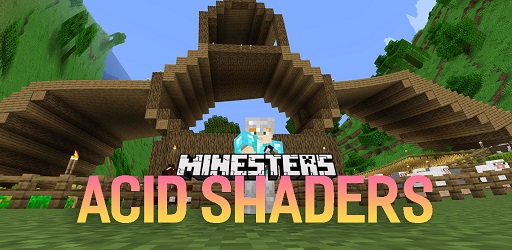 Description about Acid Shaders
Acid Shaders: Play Minecraft Will Be Different with This Shader!
Acid Shaders is a Minecraft Shaders with a new technique that does not heavily focus on the graphic enhancement and shadow system. Instead, Acid Shaders Minecraft distorts the blocks in the distance and makes them look more curve to the eye. You can imagine playing with Acid Shader will have the same experience while you're on VR.
With that being said, the only thing Minecraft Acid Shader brings is the distortion of the terrain and objects. You will not see any improvement like other Minecraft shaders like shadow enhancement, reflections, or parallax mapping. That's why Acid Trip Minecraft shader is fairly lightweight and you can just enjoy it with a potato computer without worrying too much about the lag.
Minecraft Acid Interstate V3 does add a custom sky texture into the game so you can still see the clear blue sky like other Minecraft shaders. Because the further the object is, the more distorted and psychedelic you will feel. And if you're swimming in the world with Realistic Acid Trip installed, you will see the ocean is nearly fallen off to you, so watch out for the nausea effect!If you're a fan of something new, you should try Acid Shaders out. It's weird but fascinating, and it doesn't consume so much resource so you can enjoy the shaders with the highest FPS. And remember to install Optifine before downloading Acid Shaders!
Require
Note: Download Optifine HD to be able to use Shaders, the version used must be the same for the best Shaders experience.
How to install Acid Shaders
You must have Optifine HD installed
When you finish installing Optifine, open Minecraft
Go to Options => Video Settings => Shaders => this time click Shaders Folder
The new window is opened, now simply copy and paste your shader zip file over here.
Comeback to Minecraft, choose your shader and click Done. Enjoy!
Download Acid Shaders
Compatible Version
1.18.2 - 1.18.1 - 1.18 - 1.17.1 - 1.17 - 1.16.5 - 1.16.4 - 1.16.3 - 1.16.2 - 1.16.1 - 1.16 - 1.15.2 -1.15.1 - 1.15 - 1.14.4 - 1.14.3 - 1.14.2 - 1.14.1 - 1.14 - 1.12.2