Ancient Tools 1.19+ → 1.16
Ancient Tools Addon - A texture pack that adds a new 3D model to swords, bows, and crossbows with medieval, old-fashioned styles and primitive inspiration.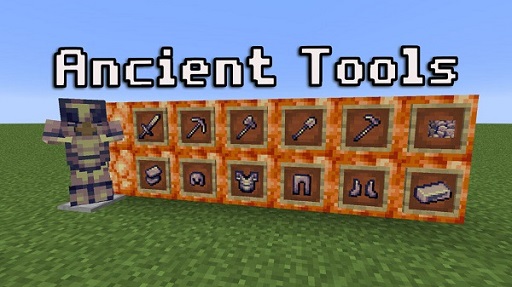 Description about Ancient Tools
Ancient Tools Addon - Minecraft With New 3d Custom Items
There are two types of players in Minecraft: the ones who are into contemporary weapons such as guns, missiles, and grenades … while the others prefer medieval melees and ranged weapons. Just in case you are keen on swords or bows, this Minecraft Ancient Tools addon is the one that is not to be missed.
In general, Ancient Tools MCPE is a texture pack instead of a mod, which means it allows players a graphic improvement and also compatibilities. So if you want your game texture to be more fascinating, this one is the top choice!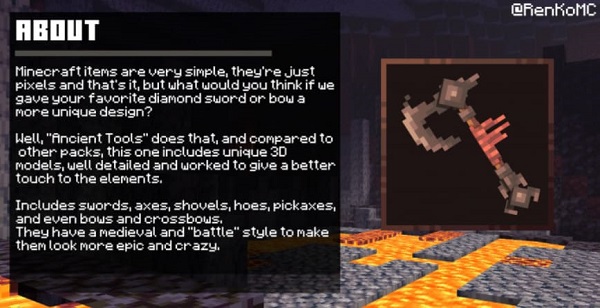 The pack contains 10 well-developed models which are really cool to look through:
Wooden tools: all tools have nothing but wood. Most tools are assembled with one or two parts so that they retain the Minecraft essence.

Stone tools: The hammers and the axes look similar to what our ancestors used to use. The stick is also wooden while logs are reinforced by ropes.

Iron Tools: Moving to the most common material in medieval times, we've got tools with fantastic and simple designs. The axe should be considered the best design as it looks as solid as the Viking axes.

Diamond Tools: We guarantee that all mobs would scared of these tools due to their epic appearances, with warm colors like orange and red, these tools remind you of piglins - a neutral mob found in the Nether.

Diamond Tools: If there are no decorations on sticks, you would misunderstand its kind of iron tool. But paying close attention to the logs, you'll see it's way more mystic and ancient than the iron ones.

Netherite Tools: This will be the best choice ever. They look extremely like they came from hell. With the patterns and the detailed shape, these tools are only for true warriors.

Bows: This ranged weapon is inspired by the classic medieval bow, that you'll probably see in other games. Its arrows come with 3D texture and animation as well as every mob can even carry it.

Crossbows: Crossbows have a more detailed structure and complex mechanisms than bows. It's bigger than bows and the arrows look quite the same.

Trident: It looks more like a wand for a wizard than a weapon of Poseidon. Choose the proper costume for your character to fit it best.

Shields: A combination of wood and iron shield inspired by Vikings once again. The original shield of Vikings is in a circle shape, the pack improvises it to a square. The arrows are in 3D texture, so they will be visible once attached to the shield.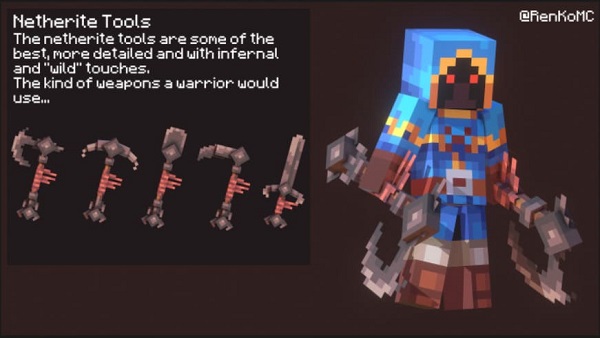 And that's what Ancient Tools offers, if you are playing Minecraft on your phone, Ancient Tools Minecraft PE is also available. Get Ancient Tools Addon Download by the link below and have fun!
Playable Minecraft Version
Download Ancient Tools