Arath's Guns 1.19+ → 1.17
Arath's Guns Addon - a Minecraft add-on that provides many weapons in contribution players such as firearms, missile launchers, and so on.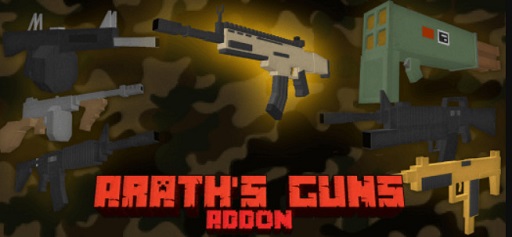 Description about Arath's Guns
Arath's Guns Addon - Tons of Modern Firearms for Minecraft Players
Is it possible for incorporating the animation and pieces of equipment of a first-person shooter video game like Call of Duty into an open world like Minecraft? Thanks to Arath's Guns addon Minecraft, the answer is yes!
Arath's Guns MCPE is a mod that provides many weapons in contribution for Minecraft players such as firearms, missile launchers, and so on. These weapons are about to improve not only the gameplay with your friends but also useful to cope with monsters in survival mode.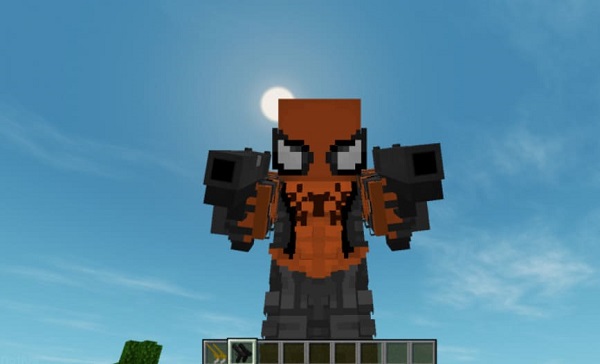 Each weapon is crafted with its unique recipe, but first, you need to get your own crafting tables. Arath's Guns Addon allow 2 of them: Advanced Weapon Table aka Modern Guns Table, the other is Simple Weapon Table aka WW2 Table. You need coal and copper ingots to craft Advanced Weapon Table while the Simple one requires coal and iron ingots.
These weapons will mean nothing to you if ammo is missing. This mod also solves that problem. Gunpowder and copper ingot are all you need for Ammo Box.
Once you get all the necessary stuff, note that most guns require coal, copper ingot, iron ingot, and gunpowder as the same materials for the recipe, but differ in the amount. Now let's take a look at these main characters:
Uzi: This submachine gun requires 12 coal and 16 iron ingots to complete. Uzi contains up to 50 ammo so this is a good choice for consecutive damage.

Bazooka: This anti-tank rocket can cause a devastating explosion. There is only one bullet capacity, but to end the mob's lives, you don't even need the second one.

Dual Double Action Revolver Shoot: If you need guns for both hands to show off your power, luckily there is an option for the dual piston. With quite average damage and 12 ammo per gun, these firearms are suitable for emergency conditions.

Grenade Launcher: Like a bazooka, a grenade launcher is useful to destroy a large number of mobs although a grenade launcher takes less damage, it allows more ammo capacity for a better "hide and shoot" tactic.

Golden Thompson: The most powerful gun in this mod. Not only that, its luxurious appearance can win your heart so far.

Grenade M67: Another option for dispersing the crowd. But be careful because grenades can cause damage to any individual nearby.

Barrett M82A1: Killing targets in a far distance will never be a struggle thanks to this sniper gun and its telescopic sight.

Flare Gun: Flare Gun serves as a weapon as well as a tool to receive supplies.

After shooting in the sky, wait a few seconds until it sounds a sound of a villager, if it produces a sound of "Yes", then there will be a box of supplies or you will receive nothing in vice versa.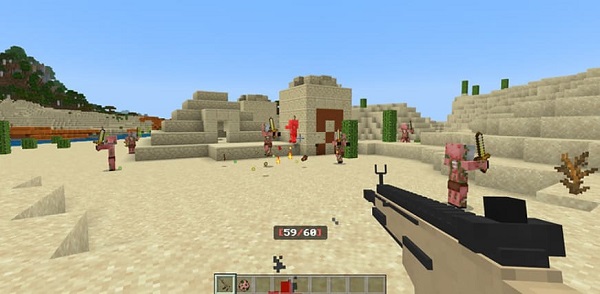 The list above just showcases some of the large numbers of guns this mod provides. With a variety of choices, we believe that it'll be a tough challenge for you to pick up your gun starter pack. Get Arath's Guns Addon Minecraft Download and buckle up for your next mission!
Playable Minecraft Version
Download Arath's Guns