Chocapic13 Shaders 1.18.2 → 1.12.2
Chocapic13's Shaders mod is a custom Minecraft shader created by choca13 back in 2020 and become popular over the year by improving your lighting and fog.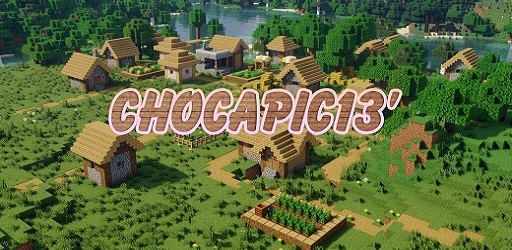 Description about Chocapic13 Shaders
Chocapic13 Shaders: A Great Lighting Effects Minecraft Shaders
Among BSL and Sildur shaders, Chocapic13 is a very famous Minecraft shader that provides a gorgeous look for your Minecraft world! From the texture to the lighting, everything is now so high quality and super-enhanced to fit in your eyes.
1. What is Chocapic13?
Chocapic13's Shaders mod is a custom Minecraft shader created by choca13 and it was named follow choca13's name. Chocapic13 was created back in March 2020 and become popular over the year due to its quality. Some just love the shader because of its name.
Minecraft Chocapic13 shaders heavily focus on the lighting enhancement, such as the run say, the moonlight, the fog, the rain, and so on. If other shaders just improve the look of the atmosphere in Minecraft, Chocapic13 makes it the best! You can feel the moist mood in the rain, and a little cold in the snow.
2. Chocapic13 Versions and Features
For the last 2 years, Chocapic13 has had a lot of versions to be compatible with its current Minecraft version. Chocapic13 version naming is super easy to recognize as it is just a simple V letter with a number next to it, indicate the version.
Right now, you can barely find any Chocapic13 v1 to Chocapic13 v5, since they're kinda old and may not work with the recent Minecraft updates. Chocapic v6 should, and hopefully can work normally on any version of Minecraft. Since Chocapic13 v7, v8, and v9 required Optifine at Minecraft 1.12 and up.
The latest version of Chocapic13 Minecraft is V9, which you can find the download link down below! In which you can find 5 smaller versions of Chocapic13 v9, they are called Lite, Medium, High, Ultra, and Extreme. With each version up, the quality is significantly improved and it may burn your computer if you don't use it right :P.
The only thing that makes Chocapic13 different from other Minecraft shaders is it required a good enough computer with a certain graphic card to achieve the 30-120 FPS. With my integrated Nvidia graphic card, I'm able to play Sildur or BSL shader at 20-30 FPS, but not playable with Chocapic13.
Besides that, if you have a strong computer, Chocapic13's shaders pack is a must-installed Minecraft shader for your collection. Your Minecraft world will be much more realistic, and it will even better if you can install some realism texture pack like Patrix or Realistico.
At day, you can't tell the huge difference between Chocapic13 and other Minecraft shaders. But when it's noon or night, or you're in a cave, you will see a gigantic difference. Especially when you visit the Nether and the End. The primary atmosphere Chocapic13 brings is dark, scary, and horror.
It's even more terrifying when you're under the water. The color scheme change to teal and your vision is reduced, making the ocean much darker and you can't see anything in a far distance anymore. So watch out for some monster!
More specifically, the color theme in the Nether is scary red with a thick fog fly all over the place. And in the End island, you will now feel it's actually a boss fight because of the epic scene with a giant mist float up in the sky. Wait until you see an Ender Dragon!
3. Chocapic13 Shaders Download
Due to the dependent on Optifine 1.12 and up, Chocapic13's most famous version was Chocapic13 shader 1.12.2. But now it's updated to the most recent versions, include Chocapic13 1.16.5 and 1.17 versions.
I'd recommend downloading the latest version, which is Chocapic13 V9 and try the High version of it. Then you can adjust to Ultra or Low depend on your FPS to experience the best quality.
Require
Note: Download Optifine HD to be able to use Shaders, the version used must be the same for the best Shaders experience.
How to install Chocapic13 Shaders
You must have Optifine HD installed
When you finish installing Optifine, open Minecraft
Go to Options => Video Settings => Shaders => this time click Shaders Folder
The new window is opened, now simply copy and paste your shader zip file over here.
Comeback to Minecraft, choose your shader and click Done. Enjoy!
Download Chocapic13 Shaders
Compatible Version
1.18.2 - 1.18.1 - 1.18 - 1.17.1 - 1.17 - 1.16.5 - 1.16.4 - 1.16.3 - 1.16.2 - 1.16.1 - 1.16 - 1.15.2 -1.15.1 - 1.15 - 1.14.4 - 1.14.3 - 1.14.2 - 1.14.1 - 1.14 - 1.12.2