Continuum Shaders 1.18.1 → 1.12.2
Are you a Minecraft shaders enthusiast with a high-end computer? If so, Continuum Shaders may be the best Minecraft shaders for you! Ready for the realism!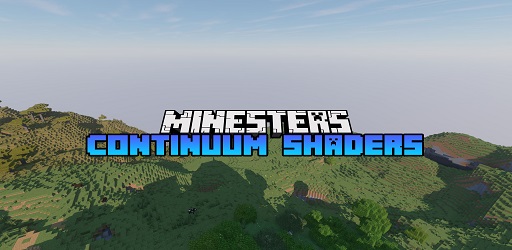 Description about Continuum Shaders
Continuum Shaders: High Quality and Realism Minecraft Shaders
Continuum Shaders is a high-quality and performance Minecraft shader. It's mainly focused on high-end machines because Continuum shader enhances the graphics overall to the next level! You can see the leaves swinging in the wind, while the realistic clouds fly by and the sunray is brightening the world, leaving realistic shadows on the ground. Everything is now much more brighter and alive.
There are currently 3 versions of Continuum Minecraft, which are Continuum 2.1, Continuum RT, and Continuum Legacy. Each one has its own price and advantage. For now, you can only buy Continuum 2.1 shaders and Continuum RT Early Access. While Continuum 2.1 is an upgrade version of Continuum 2.0, it's been built differently with super realistic graphics, volumetric lighting, and other graphic metrics. The other one, which is Continuum RT, is a version aimed to make ray tracing experience in Minecraft. So if you're planning to buy this, just make sure your computer has a decent graphic card.
You can still download Continuum Minecraft for free with the Continuum 2.0 version. The result of this free version is still incredible and totally worth installing. If you've tried Continuum before, Continuum Legacy is the one for you since it's built for people who played the Continuum 1.3 shaders before. The only thing you need is to wait because this version is still in the development process.
What makes Continuum Minecraft different is the graphic is built in two steps. The first step is the lighting and the second is toning age. So not only improve the shadow and physic effect but Continuum shaders Minecraft also improve the color and tone of the object, making it blend so well with the surrounding environment. Want to download Continuum shaders free now?
Require
Note: All must use the same version
How to install Continuum Shaders
You must have Optifine HD installed
When you finish installing Optifine, open Minecraft
Go to Options => Video Settings => Shaders => this time click Shaders Folder
The new window is opened, now simply copy and paste your shader zip file over here.
Comeback to Minecraft, choose your shader and click Done. Enjoy!
Download Continuum Shaders
Compatible Version
1.18.1 - 1.18 - 1.17.1 - 1.17 - 1.16.5 - 1.16.4 - 1.16.3 - 1.16.2 - 1.16.1 - 1.16 - 1.15.2 - 1.14.4 - 1.14.3 - 1.14.2 - 1.14.1 - 1.14 - 1.12.2