Drdestens Mcshaders 1.18.2 → 1.10.2
Drdestens Mcshaders is a Minecraft shader created by DrDesten. It won the heart of many Minecraft players because of its effect and how often the pack is updated.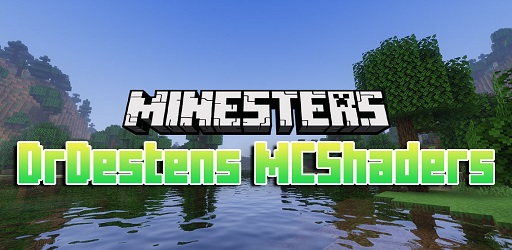 Description about Drdestens Mcshaders
Drdestens Mcshaders: Minecraft Shaders for Various Specs Computer
Drdestens Mcshaders is a new Minecraft shader created by DrDesten. Despite the fact the shader is fairly new and only has 144,000 downloads over the year, DrDestens Shaders won the heart of many Minecraft players because of its effect and how often the pack is updated. Let's see what this shader can do!
First of all, just like other Minecraft shaders, Dresden Shaders overall improve the graphic and lighting system of the game. It also includes some important features of basic shaders like water reflection, bloom effect, ambient occlusion, depth of field, motion blur, TTA, and a lot more! And Dr Destens MC shaders work best with the PBR texture pack, so if you want to improve the game more, you know what to do!
The most recognizable thing about DrDestens MC shaders is everything looks much brighter and objects faraway look blurry as there is a white fog surrounding them. Dresden MC shaders also have the best sun ray compared to other shaders, as when the sunset, you can see how every light ray reflects on the ground. And talk about the water, it's super realistic since you can see through the clear blue water. And they also wave, this effect is the best when you're swimming.
Dr Destens Shaders has six different packs and preset to choose from. They are Lite, Low, Medium, High, Ultra, and Extreme. So if you have a low specs computer, you can choose the Lite or Low version and still enjoy the experience the shader brings. This is the most flexible feature of Dr Estens Minecraft Shaders since you can just enjoy this shader no matter how your computer specs are. There are a little amount of Minecraft shaders that can do this, to be honest!
Require
Note: Download Optifine HD to be able to use Shaders, the version used must be the same for the best Shaders experience.
How to install Drdestens Mcshaders
You must have Optifine HD installed
When you finish installing Optifine, open Minecraft
Go to Options => Video Settings => Shaders => this time click Shaders Folder
The new window is opened, now simply copy and paste your shader zip file over here.
Comeback to Minecraft, choose your shader and click Done. Enjoy!
Download Drdestens Mcshaders
Compatible Version
1.18.2 - 1.18.1 - 1.18 - 1.17.1 - 1.17 - 1.16.5 - 1.16.4 - 1.16.3 - 1.16.2 - 1.16.1 - 1.16 - 1.15.2 -1.15.1 - 1.15 - 1.14.4 - 1.14.3 - 1.14.2 - 1.14.1 - 1.14 - 1.12.2