Kappa Shaders is a Minecraft shader based on the kappa meme. The purpose of Kappa shaders is to improve the overall look of Minecraft aesthetically with a warm tone.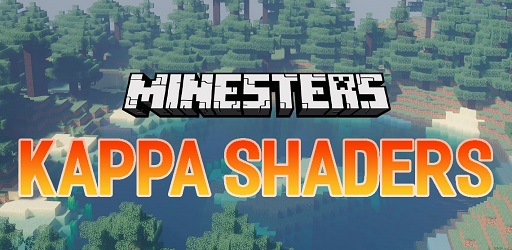 Description about Kappa Shaders
Kappa Shaders: Great Summer Vibe Minecraft Shaders
Kappa Shaders is a Minecraft shader that overall improve the look of default Minecraft aesthetically and make things more realistic, just like other shaders. Kappa Shaders Minecraft has over 350,000 downloads and it's fairly new since it was created in 2019. As you read its name, you can merely realize the Kappa meme from the internet, that's where this shader's name comes from.
Minecraft Kappa Shaders highlight many features like dynamic shadows, volumetric clouds, volumetric fog, lens flares, atmospheric scattering, depth of field, bloom, motion blur, global illumination, temporal anti-aliasing, and resource pack support, which mean you can use any Minecraft texture pack while using this shader.
Minecraft Kappa enhances the water effect and reflection just like other shaders, making the water look so realistic with every wave. Kappa Shader Pack also improves the lighting and overall vibe of the game, giving it a warm summer atmosphere when it's daytime. In the noon, you can see every objects glimmer and has an orange reflection on them, while in the night time, you barely see anything in front of you, so better make a shelter.
With great features mentioned above, Kappa Shaders actually required a decent computer and graphic card in order to run smoothly. Any Intel HD 5000 graphics cards and older are not suitable to run Kappa Shaders. And you can only play this shader pack on the Java version of Minecraft. So make sure to install Optfine and enjoy the shader!
Require
Optifine HD
Note: Download Optifine HD to be able to use Shaders, the version used must be the same for the best Shaders experience.
How to install Kappa Shaders
You must have Optifine HD installed
When you finish installing Optifine, open Minecraft
Go to Options => Video Settings => Shaders => this time click Shaders Folder
The new window is opened, now simply copy and paste your shader zip file over here.
Comeback to Minecraft, choose your shader and click Done. Enjoy!
Download Kappa Shaders
Compatible Version
1.17.1 - 1.16.5 - 1.15.2 - 1.14.4 - 1.13.2 - 1.12.2