Lagless Shaders 1.18.1 → 1.16.5
Lagless Shaders helps Minecraft players to prevent their computer from lagging. You may now download as many shaders as you want without having to worry.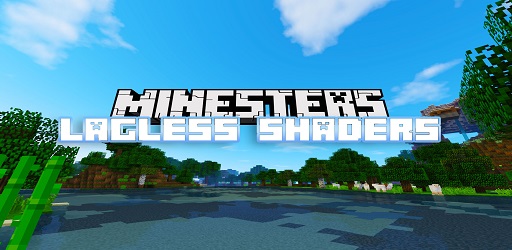 Description about Lagless Shaders
Lagless Shaders – Improve the performance of your computer
There may have been times when installing shaders and mods caused your computer to lag or slow down. Now, thanks to the Lagless Shaders mod, you don't have to worry about your computer's performance and downloading shaders. With its optimization, it is possible to say that Lagless Shaders Mod is the most popular shaders mod available.
The presence of Sodium in this mod is responsible for the outstanding performance it provides. If you are familiar with Sodium, you will know that it helps your gameplay better by allowing you to boost the frame rate significantly. The Lagless mod is supported with a setup that will improve the overall performance of your machine as you add shaders in the game.
Users will benefit from an easy and straightforward experience, which will relieve them of the stress of exploring the internet's plethora of options. Every computer should have Lagless Shader installed, no matter how fast or slow it is. A need for all players, this mod has the capacity to handle solid textures for a wide range of texture packs and shaders.
For players who are running a low-end pc to play the game of Minecraft, this Lagless Shader for Minecraft is an excellent choice. It is the most effective approach for improving your performance while simultaneously enjoying various Shaders. The mod also reduces the time it takes to switch between shaders and the time it takes to load the environment, resulting in a much faster game.
Require
Note: Download Optifine HD to be able to use Shaders, the version used must be the same for the best Shaders experience.
How to install Lagless Shaders
You must have Optifine HD installed
When you finish installing Optifine, open Minecraft
Go to Options => Video Settings => Shaders => this time click Shaders Folder
The new window is opened, now simply copy and paste your shader zip file over here.
Comeback to Minecraft, choose your shader and click Done. Enjoy!
Download Lagless Shaders
Lagless Shaders Can Be Compatible With These Versions in Minecraft
1.18.1 - 1.18 - 1.17.1 - 1.17 - 1.16.5 - 1.16.4 - 1.16.3 - 1.16.2 - 1.16.1 - 1.16 - 1.15.2 - 1.14.4 - 1.14.3 - 1.14.2 - 1.14.1 - 1.14 - 1.12.2