Life in The Village Modpack 1.12.2
Life in the Village modpack brings you the Minecraft vanilla atmosphere. However, you will be impressed by its terrain, gameplay, economic, and NPC system!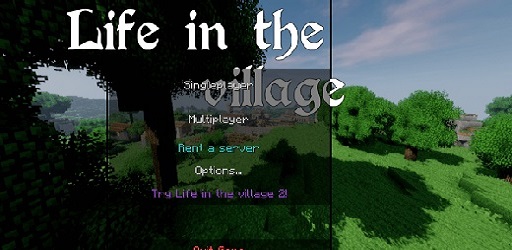 Description about Life in The Village Modpack
Life in The Village: A Peaceful & Relaxing Minecraft Modpack
If you feel enough of Minecraft's intensity, Life in The Village is one of the most suitable Minecraft modpacks you can think of! It brings a relaxing mood and a peaceful life to your game.
Minecraft Life in The Village
Life in the Village modpack brings you to the Minecraft vanilla atmosphere when things look normally within the scope of Minecraft. You spawn in the world, chopping down trees, making a crafting table, and so on!
How is the world?
The first thing you will notice is how the world is generated and how wondrous it looks. With the help of Biome bundle mod, you will see over 400 biomes with over 2000 custom structures. Well, the world is yours to explore now!
Minecraft mod Life in The Village does not just bring a new terrain generator to the game, but it also enhances its current look. What to say? You will drown yourself in a fantastic world, with Better Foliage contribute a big role in this job.
In your journey, you will find a lot of new creatures and animals like butterflies, lizards, snakes, custom birds,... They've all come in different shapes and colors. Which makes your Minecraft world more alive.
Combine all of those with Dynamic surrounding mod, you will be mind-blown by how real and immersive the world look and feel. With Dynamic surrounding installed, every sound and music in the game is enhanced and become much more realistic.
The peaceful aspect of Life in The Village
You can go big, from building a megabase without the back (just like most of Hermitcraft's members), to build a super small but highly detailed house with the help of Chisel mod. Now you're building a pixel by pixel, not a block by block.
Life in the Village also installs Rustic, Bibliocraft, and Landlust. The combination of these Minecraft mods will give you more opportunities to decorate your house even more!
Do you want base support? You can build a pillar!
Do you want a place to store your things, but not a chest? Barrels and Cabinets are your choices! And you can even build a custom bookshelf, or a weapon and potion rack.
I hope that's enough mods for Minecraft builders. But how about the farmer? Well, I'm glad that you've asked. Life in The Village Minecraft provides different variations of food and plants. Which you can grow from your field and cook them.
The custom fruit and tree look super tasty and juicy, so you will want to keep eating and eating. But there is a price!
If you eat the same food over and over, your hunger will not restore that much compare to the first few times. This feature makes Life in The Village super immersive, just like in real life.
Finally, how about Minecraft miners?
You will be provided with a lot of custom ores and minerals. So get yourself a hard pickaxe and to the mine, you go! One thing to be note is Life in The Village uses the Veinminer mod, which makes you mine entire ores of the same type. OP feature!
Immersive Features
With Life in the Village, traveling is much easier and you can travel in many different ways as well. You can craft yourself an airship and sail away in the cloudy sky. Or you can just use Waypoint mod to allow quick travel between the way stone. Very convenient!
Remember the custom structure? They're not all the same, since some structures may give you a free loot with low-quality. Some of them, on the other hand, give you a challenge, or a whole Dungeon to deal with. Is it hard? Yes! But you will receive much more powerful items.
The game will become more immersive because you can choose class, fight mobs to level up, or by doing quests and so much more! You can choose between a peaceful or dangerous life by choosing from hunting, gathering, or exploring quests.
Other useful and basic features I believe every Minecraft modpacks have are Journey map, Just Enough Item, Mouse Tweak, and Inventory Tweak. These 4 mods are the must-have to improve the quality of life.
With all of th features above, you can just play Life in The Village modpack forever. But, there is more! Here are the core Minecraft mods in this modpack which make it unique and create the feeling of progression.
Minecolonies and Millenaire in Life in The Village
Is it boring if you're playing alone? In this case, Life in the Village modpack contains mods called "Minecolonies" and "Millenaire", which will provide a variety of the new Villager system.
You will have the ability to trade with different NPC roles like Enchanters, Guards, Farmers, Alchemists, Crafters, and Builders. Each one will provide a unique trade and items. And you earn reputation points by trading and gathering specific resources.
Furthermore, when you have enough reputation and buy a proper land. You can hire villagers to do work for you. From building houses to fighting mobs, they got you covered! You can even create an army to follow and protect you, to fight Minecraft's bosses, or discord a Roguelike dungeon.
Life in The Village Modpack Download
Is this modpack interest enough for you? Through this article, you now know this modpack is not so challenging (if you're a Minecraft veteran). But I believe it will be hard for some of you, so watch out for Minecraft Life in the Village guide and hopefully, you can beat this modpack.
You can find most of the Minecraft Life in the Village modpack on the Internet with a variety of versions. From Life in the Village modpack 1.12.2 to Life in the Village 1.16.5. But I'd recommend downloading the Life in the Village Minecraft modpack below!
Download Life in The Village Modpack