SEUS Shaders 1.18.2 → 1.12.2
Sonic Ether's Unbelievable shaders (aka SEUS), according to Cody, is a popular graphics modification for Minecraft. It has over 2+ million downloads by now!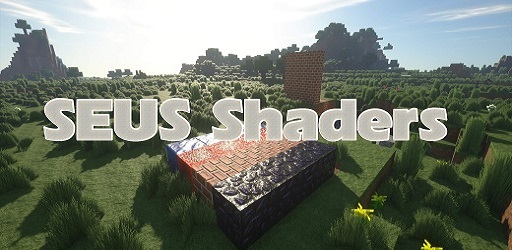 Description about SEUS Shaders
Sonic Ether Unbelievable Shaders: A High-Quality Minecraft Shader
You probably have heard a lot about a Minecraft shader called "SEUS". But do you know what is it stand for? It's Sonic Ether's Unbelievable Shader, which is one of the best Minecraft shaders created by Cody.
As with other shaders, Sonic Ethers Unbelievable shaders mod improve the lighting and rendering system. It changes how the game looks by adding various things like the noticeable daylight cycle, the lighting ray, the shininess, and more.
1. What is Sonic Ether Shaders?
Minecraft Sonic Ether's Unbelievable shaders (aka SEUS), according to Cody, is a popular graphics modification for Minecraft. SEUS enhanced the appearance of the game by completely change the rendering system.
Sonic Ethers has over 2+ million downloads over the Internet. And on Cody's Patreon, he has over 5000 members who follow and support his will. Which is insane!
Sonic Ethers Unbelievable Shaders SEUS revamps pretty much everything about Minecraft's world. With this shader pack, you can feel the world is both alive and deadly at the same time.
The atmosphere is overhauled! You can see the clear water on the surface, or even when you're swimming deep in the ocean. The tree, grass, and plants are now more alive since SEUS enhance the color and make them swinging in the wind.
But the mood suddenly changes when it comes to nighttime, you can barely see anything in front of you, unless you have a torch or a light source. The moon may be able to help you but with its tiny beam, the night is scarier than ever!
With the vibrant color and mood, SEUS also brings us a new look for the sky, the sun, and the clouds. Like most Minecraft shaderpacks, SEUS makes the sky look so much more realistic by adding high rendered moving clouds. You can even see and feel every sun ray from the sky.
And when it's raining, you know how it's so fake and not bringing any emotion in vanilla Minecraft, right? But with Sonic Ether's shader, you can now feel the rain, feel every raindrop hitting your character, and feel how cold and lonely yourself is! That's why you will need shelter for the rainy day.
So you're about to download Sonic Ether Unbelievable Shaders. But which versions should you choose? Or how many you can choose? Let's get into the next section to find out the difference between SEUS Renewed and SEUS PTGI!
2. Sonic Ether Version
Just like other Minecraft realistic shaders, Sonic Ether Minecraft mainly has two versions, one is free and another is pay to own one. As the pay version of the Sonic Ether Shader mod is not released yet, we still do not know if Cody is charging us for that.
1. SEUS Renewed
SEUS renewed is an improved version of the legacy and the official version of Sonic Ether Shaders. It brings you whole new visuals at a suitable performance using the conventional rasterization-based rendering technique.
Sonic Unbelievable Shaders have some types of SEUS renewed, but as Cody said, most of his development time for the shader pack is heavily focus on developing the SEUS PTGI version, which is the paid version of SEUS in the future.
Although it's a free version, Sonic Ether's Renewed shaders do provide good enough lighting and shading to the game. Especially for different types of light sources, SEUS emphasized their color and give them the blooming effect, to make them even more realistic.
You can easily compare by switching the SEUS shaders off, as in vanilla Minecraft, all of the light sources are mostly the same. But with Sonic Ethers Unbelievable Shaders, the color is now mixing together with the environment as well! That's means under the moonlight, the color of any light source may look a little bit more light blue!
About the shadow, you can easily notice how every object has its own shadow on the ground. And they're even moving just like in real life. A wind comes by, and all of them just swinging back and forth. And the shadow is even creepier in the cave. Just imagine mining, placing a torch, and you see a creeper shadow appear behind you!
2. SEUS PTGI
SEUS PTGI is an advanced version of the SEUS shader series. It's compatible with ray tracing without requiring any strong RTX graphics cards. You can just use your old or integrated graphics card, but make sure it's still strong enough for better FPS.
PTGI appears for path traced global illumination, combine with the ray-traced reflections are the main features of the SEUS project. Minecraft Sonic Ethers PTGI is yet in the development process and will not be released soon. However, you can support and increase his morale by becoming a member of his Patreon!
Sonic Ether has 4 packages include Stone, Iron, Gold, and Diamond. Each of them has its own price from $1 and all the way to $25. When donating these amounts each month, you will have access to the SEUS PTGI news. And you can try the PTGI version for now if you have a Gold or Diamond rank.
3. Legacy SEUS
Minecraft Shaders Sonic Ether also has some legacy versions of SEUS. They include the normal Legacy SEUS and the SEUS Ultra version. You can try both of them for free. I will leave the link download below!
3. Sonics Shaders Download
Although the PTGI (or ray tracing version) is not released yet, you can still try the SEUS Renewed version or SEUS Legacy. They still look very good and promising!
Besides the strong computer with a high enough graphics card, you would need to use SEUS on the right version for the best experience. Some of them include Sonic Ether 1.12.2, Sonic Ether 1.15.2, Sonic Ether's 1.16.5, and sonic ether 1.17.1..
Require
Note: Download Optifine HD to be able to use Shaders, the version used must be the same for the best Shaders experience.
How to install SEUS Shaders
You must have Optifine HD installed
When you finish installing Optifine, open Minecraft
Go to Options => Video Settings => Shaders => this time click Shaders Folder
The new window is opened, now simply copy and paste your shader zip file over here.
Comeback to Minecraft, choose your shader and click Done. Enjoy!
Download SEUS Shaders
Compatible Version
1.18.2 - 1.18.1 - 1.18 - 1.17.1 - 1.17 - 1.16.5 - 1.16.4 - 1.16.3 - 1.16.2 - 1.16.1 - 1.16 - 1.15.2 -1.15.1 - 1.15 - 1.14.4 - 1.14.3 - 1.14.2 - 1.14.1 - 1.14 - 1.12.2