Super Duper Vanilla Shaders 1.18.2 → 1.12.2
Super Duper Vanilla Shaders is a continued version of the SDGP. It significantly improves the lighting and shadow system of the game, to create a realistic feeling.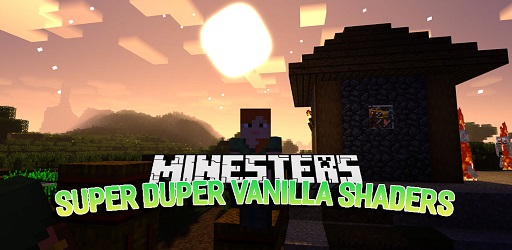 Description about Super Duper Vanilla Shaders
Super Duper Vanilla Shaders: Minecraft Shaders For Java Optifine
Super Duper Vanilla Shaders is a continued Minecraft shader version of the Super Duper Graphics Pack. Super Duper Vanilla was created by Eldeston in late 2021 and it become popular with over 85,000 downloads. And just like other Shaders, Super Duper Shaders significantly improve the lighting and shadow system of the game, to create a realistic feeling when everything is enhanced.
You can still see Super Duper Vanilla Minecraft has the same effect as the Minecraft Dungeons game. Because this shader pack is a combination of the old Super Duper Graphics Pack and the Minecraft Dungeons shader. With that being said, you can expect a lot of big changes compared to the vanilla game. You can see the water is waving, the leaves are swinging, and the sun and sky are just gorgeous, especially in the morning!
And when it's at night in Super Duper Vanilla Shaders Minecraft, the world becomes very cold and dark. The ambient light and the gamma correction are quite different in this shader pack, so be careful and prepare some light source when going adventuring.
The great thing about Super Duper Vanilla is it's getting updated frequently since the owner of the pack is very active. If you have any trouble installing or playing the pack, there is a whole active community waiting for you! You can download Super Duper Vanilla Java right below! And remember it's required to download and install Optifine as well. In case you experience lag spikes or FPS reduction, turning off some Optifine settings like quality, detail, and animation may help!
Require
Note: Download Optifine HD to be able to use Shaders, the version used must be the same for the best Shaders experience.
Require
You must have Optifine HD installed
When you finish installing Optifine, open Minecraft
Go to Options => Video Settings => Shaders => this time click Shaders Folder
The new window is opened, now simply copy and paste your shader zip file over here.
Comeback to Minecraft, choose your shader and click Done. Enjoy!
Download Super Duper Vanilla Shaders
Compatible Version
1.18.1 - 1.18 - 1.17.1 - 1.17 - 1.16.5 - 1.16.4 - 1.16.3 - 1.16.2 - 1.16.1 - 1.16 - 1.15.2 -1.15.1 - 1.15 - 1.14.4 - 1.14.3 - 1.14.2 - 1.14.1 - 1.14 - 1.12.2