Winter Pack Addon - a texture pack that allows us to install new designs, decorations, and colors as well as renew items, tools, armors, blocks, and so on.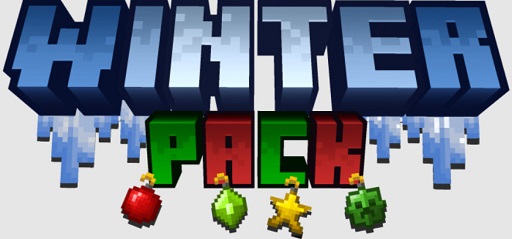 Description about Winter Pack
Winter Pack Addon - Cozy Minecraft Texture Pack for Christmas
There's a fact that most of us love winter, not only because of the Christmas holiday season but also because of snow. To fully celebrate and bring on the vibe to your Minecraft world, we suggest installing Winter Pack Minecraft as first priority due to its incredible features!
Winter Pack Addon Minecraft introduces a wintery texture pack with Christmas. The bright color of the scenes, the warm-welcoming atmosphere, and all the Christmas stuff are clearly renovated through this mod.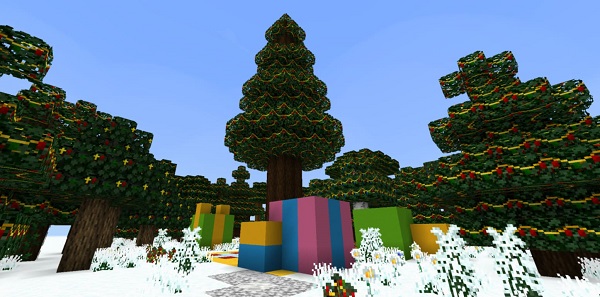 What will be better than having a great time with your friends during the Christmas holiday? Truly nothing. The Winter Pack MCPE offers a new fireplace style and campfire - definitely the best destination for gossip.
One of the best parts of this mod is that it is not focusing on changing the Minecraft biomes, it also brings new decorations, equipment, and vibe instead to keep the essence. Once you applied the pack, go outside and observe lots of charming decorations such as giant gift boxes, pine with decorative string, giant candies…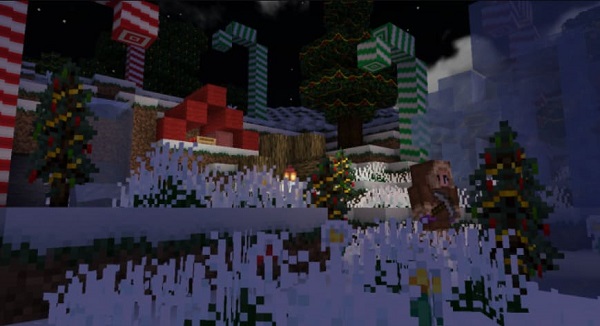 Moreover, the interior is filled with a bunch of gifts, and stocks on the fireplace. Not only that, but the mod also creates lots of cold biomes, tunnels, and castles for discovery, they have their own indescribable look but make yourself safe because these are biomes of mobs.
We believe it'd be a terrible lack of vibe for the winter season in Minecraft if you are unaware of this Winter Pack Addon Minecraft, also if you are playing on your mobile, Winter Pack Texture Pack PE is available as well. Get the texture pack by the link below and enjoy your event!
Playable Minecraft Version
Download Winter Pack