3D Combat Addon - This wonderful mod brings the greatest battles thanks to new weapons with their especially amazing abilities and the most realistic combat mechanics.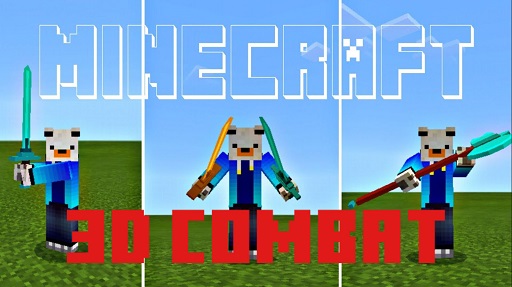 Description about 3D Combat
3D Combat Addon - Improve Fighting Experience in Minecraft
3D Combat Minecraft brings realism to combat through the exhaustion stat system. You will not be able to use weapons when the score of this system drops to 0. The only way to recover that is to do nothing.
One of the highlights that the 3D Combat Addon Exhaustion Update‌ has created is new Scrolls. We will introduce you to some typical scrolls as follows:
Iron Lung Scroll: Reduces exhaustion rate.

Diamond Lung Scroll: Upgrade more than Iron Lung Scroll, reduces exhaustion rate greatly.

Friction Stick Scroll: Adds extra fire damage to your attacks.
All these Scrolls will be located randomly, scattered everywhere in the Minecraft world. With the abilities they bring, your chance to win the combat is easier than ever.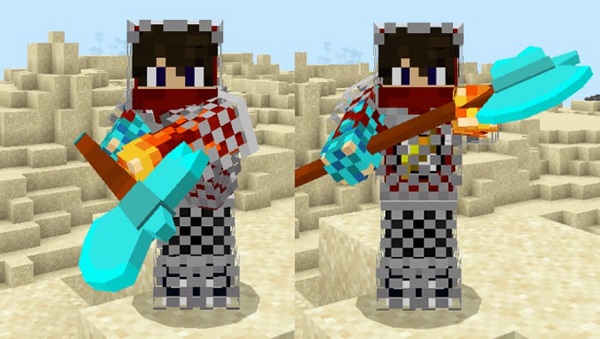 Greatsword: Possesses such a huge size that you have to hold it with two hands, the special skill is rotating and you can also move to attack enemies with wide area damage.

Lance: A sharp weapon, possessing length as an advantage, allowing it to damage enemies, without necessarily closing them. You will have a high speed when activating this weapon's special ability, allowing you to quickly attack enemies.

Katana: This is an extremely famous weapon, 3D Combat Addon Exhaustion has brought its features from real life to Minecraft perfectly. Besides performing fast and powerful slashes, its special skills are also equally amazing. You will be in a defensive position and ready to fight, when you have identified the target, you will activate a lightning slash at the enemy.

Katar: This is a small and light weapon, although the damage is not great, the attack speed is fast, so it is also preferred by gamers.

Maces: A weapon with an impressive appearance, although not sharp, but possesses great abilities. When using this weapon, your attacks can stun the enemy, in addition, its damage can penetrate armor.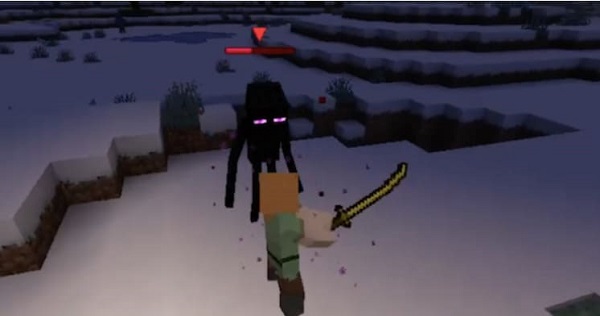 Playable Minecraft Version
Make sure you have Forge Mod installed
Search and download any mod you like on our website.
You will get the .jar file after downloading, copy the file.
Press Window + R, type %appdata%, press Enter.
Navigate to the .minecraft folder, then to the mods If you don't have a mods folder, create one, paste the .jar file inside the mods folder
Download 3D Combat