It is a mod for Minecraft that provides the user with a medieval-themed system, NPC armies and towns, siege weaponry, and more. It gives you an ultimate ancient war experience!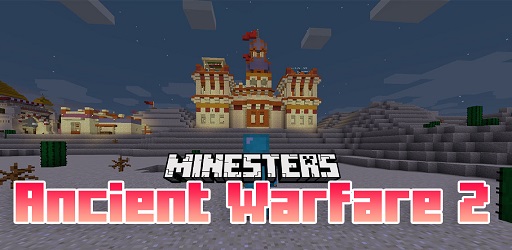 Description about Ancient Warfare 2
Ancient Warfare 2 – Build Your Own Ancient Medieval World
If you've ever wanted to include some ancient action in your game, here's your chance! A Minecraft mod called Ancient Warfare 2 focuses on giving the user an ancient-styled environment, NPC armies and towns, siege weaponry, and other items to help them win the war and explore the world.
The Overworld of your normal Minecraft world, notably the Overworld dimension, is a barren landscape with very few things to do. Ancient Warfare expands the number of methods in which a player may recruit and lead warriors. And we're talking about genuine troops here. Grunts, archers, horsemen, healers, and siege engineers are just a few of the several types of soldiers you may recruit in this game.
The warehouse is another multi-block that enables you to store, create, automate input/output, and examine the contents of your inventory anywhere in the world. Catapults, ballistae, small trebuchets, and large trebuchets are all siege engines that may be used. To top it all off, there are dynamite cannons too!
It wouldn't be a war if all of these troops weren't capable of fighting on their own and following commands simultaneously. Player-owned troops will fight monsters and enemy forces in this game. However, the greatest thing is that Ancient Warfare also includes a complete complement of functioning citizen NPCs that can help you administer your towns and handle your resources while also adding a little personality to your world. With that said, the Ancient Warfare 2 Mod is worth giving a try!
Require
Note: All must use the same version
How to install Ancient Warfare 2
Make sure you have Forge Mod installed
Search and download any mod you like on our website.
You will get the .jar file after downloading, copy the file.
Press Window + R, type %appdata%, press Enter.
Navigate to the .minecraft folder, then to the mods If you don't have a mods folder, create one, paste the .jar file inside the mods folder
Download Ancient Warfare 2