Better Foliage Mod 1.16.5
The plants in Minecraft tend to be a bit blocky. The Better Foliage mod helps the plants to look more lifelike, while keeping the classic retro style appearance.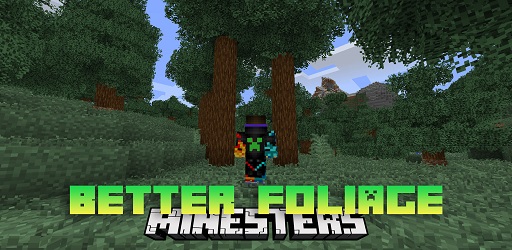 Description about Better Foliage Mod
Better Foliage: A Botanical Texture Pack
The plants in vanilla Minecraft don't have much going on with them; they are static. Of course, they are still pretty. However, if players want to make all of the plants in the game look better-- from the grass, to lilypads, to the trees, then downloading the Better Foliage mod is the way to go. In summary, the Minecraft Better Foliage helps to add more layers and leaves to most plants, while making all of the parts of the plants look more connected, even if they are on different blocks.
First, let's take a look at some of the plants the mod edits. The blocks with the most obvious changes have to be the trees. All of the trees are now fuller, having more smaller leaves per block. Most trees will also have more blocks of leaves in total. Players can choose what color the leaves are to make different tree types.The bark on the tree is also more detailed, with the trunk having more angles to look more circular. The modified grass takes a close second place. Each block has more grass on it. When two or more grass blocks are right next to each other, the grass will flow seamlessly from one block to another. Other miscellaneous edits include router-looking cacti and lily pads with flowers on them.
The Better Foliage mod creator also added some extra items to the game. Brown reeds grow on top of dirt blocks that are in shallow water. Algae will appear on blocks in deeper water. Vines can now grow on Netherrack. One creepy extra feature are twisting soul particles that come out of the soul sand.
The Minecraft Better Foliage mod works for Java 8 and higher. Either Forge or Fabric API is needed for most file versions. The newest version of the mod (Betterfoliage-2.7.1-Forge-1.16.5) is compatible with Minecraft 1.16. The mod is also compatible with OptiFine, so long as players are also using Forge. It is not compatible with Sodium.
Require
Better Foliage 1.12.2 requires Forgelin
Better Foliage 1.16.5 requires Kotlin For Forge
Note: All must use the same version
How to install Better Foliage Mod
Make sure you have Forge Mod installed
Search and download any mod you like on our website.
You will get the .jar file after downloading, copy the file.
Press Window + R, type %appdata%, press Enter.
Navigate to the .minecraft folder, then to the mods If you don't have a mods folder, create one, paste the .jar file inside the mods folder
Download Better Foliage Mod
Compatible Version