Better FPS is a mod that brings several performance changes to your Minecraft in order to raise the fps. Improved performance is a purpose of BetterFps.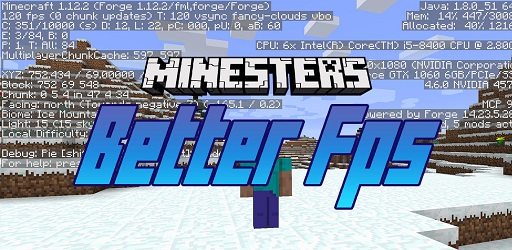 Description about Better Fps Mod
Better Fps – Provides a Performance Boost to Your Minecraft
We are all aware of how terrible low frame rates can be for a gamer, and this is especially true for Minecraft, where things can get really bothersome if you have a low frame rate. Better Fps has created a mod that improves the game's overall performance, providing the extra boost of fps needed to play the game smoothly.
Regardless of Minecraft not having realistic and visually appealing graphics available, many users who play on low-end computers face significant frame rate fluctuations. Suppose you have FPS fluctuations in some regions of the game, and the game seems to be running slowly and stutter. In that case, the Better Fps mod will undoubtedly improve the game's performance by making it perform smoothly and more efficiently.
It essentially alters the way the game analyzes sine and cosine, resulting in a considerable acceleration of these computations and a corresponding increase in your frame rate. There are several choices available to players, and the mod may be customized according to the demands of each player and the settings that they are playing in. Specific algorithm alternatives will perform much better in some instances than in others. Therefore, you can always change your mind about what you want to use.
Those adjustments may be made in-game through the config panel, which can be accessed by hitting the F12 keyboard shortcut. This mod is highly compatible with a variety of other mods, including Fastcraft and OptiFine, which makes it a highly efficient mod for players. It is a must-download if you want to enhance your game performance and boost your FPS.
Require
Note: Need to install more required mods to use the best Mods, all must use the same version
How to install Better Fps Mod
Make sure you have Forge Mod installed
Search and download any mod you like on our website.
You will get the .jar file after downloading, copy the file.
Press Window + R, type %appdata%, press Enter.
Navigate to the .minecraft folder, then to the mods If you don't have a mods folder, create one, paste the .jar file inside the mods folder
Download Better Fps Mod