Blood Magic 1.16.5 → 1.12.2
It is easy to use the magic of blood to create runes, sigils, orbs and execute rituals with the help of this mod. You now have the capacity to shape reality in your ways.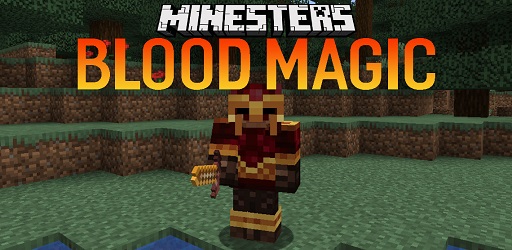 Description about Blood Magic
Control the Minecraft Realm with Blood Magic in Your Hand
If you have ever downloaded any magic mod for Minecraft and felt that it was a little too boring for your tastes? Did you feel there wasn't enough difficulty in the process of developing magic? Well, The Blood Magic Mod is an ancient skill that is pursued by mages in an effort to acquire a large quantity of power by employing a prohibited material which is blood.
The fact that it grants a tremendous amount of power does not diminish the fact that every action done with this dangerous magic has the potential to be deadly. This mod adds a comprehensive life-based magical system that includes rituals, sacrifices, summons, alchemy, and spell casting, among other things.
During their journey to become an Archmage, the player must sacrifice their own health or even the health of other monsters to acquire Life Essence, which is then used to fuel their Blood Magic creations. Blood Altar is by far the most important crafting component and the main source of Life Essence. Filling the Altar with blood may be accomplished via the use of a Ritual sacrifice Orb or a Dagger of Sacrifice.
This blood may either be saved in the player's Soul Network or used to manufacture goods on the Altar, depending on the player's preference. Playing this mod requires extreme caution. In addition, there are a variety of things that may be deadly and severe in nature. Take care and prepare for the Doom of the realm to descend upon you and your companions!
Require
Note: Need to install more required mods to use the best Mods, all must use the same version
How to install Blood Magic
Make sure you have Forge Mod installed
Search and download any mod you like on our website.
You will get the .jar file after downloading, copy the file.
Press Window + R, type %appdata%, press Enter.
Navigate to the .minecraft folder, then to the mods If you don't have a mods folder, create one, paste the .jar file inside the mods folder
Download Blood Magic
Compatible Version