Carpenters Blocks Mod 1.12.2
Carpenter's Blocks is a Minecraft mod that adds new blocks to the game that can have other block textures while still retaining the shape of the original block.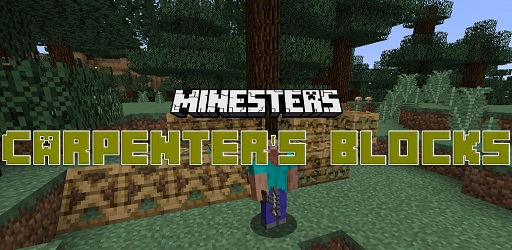 Description about Carpenters Blocks Mod
Carpenter's Blocks: Minecraft Slope, Stairs, and More!
If you're a true Minecraft builder, Carpenter's Blocks will definitely satisfy your needs. For a long time, Minecraft just focused on adding news content to the game but with minor improvements, especially about the building aspect of the game. We have a limited amount of decoration and interior blocks, and they do not even look good! So, what do Carpenters Blocks provides? Let's find out!
Minecraft Carpenter's Blocks simply add a frame block to the game, in which you can cover any other block textures on it to mimic the texture while still retaining the shape of the original block. With over 20,000,000 downloads over a few years, you know how good this mod is!
To start progressing in the Carpenters Block mod, you will need to craft some unique tools like the carpenter's hammer and chisel. This only requires some sticks and a few iron ingots, that's it! Pretty cheap to start building your dream house, right?
And that's only the tool, you will need to craft actual blocks such as carpenter's block, carpenter's barrier, bed, button, doors, gate, ladder, lever, stair, slope, and a lot more! Those carpenter blocks mostly require only planks and sticks so it's fairly cheap to use.
With the original block in Carpenter Minecraft, you can just use any block with the texture you want and right-click on the carpenter's block, this will make it change its texture immediately.
With Carpenter mod installed, you can create a beautiful world with custom terrains. A carpenter's chisel can help carve any part of the block you want, and the hammer can rotate the carpenters blocks in any direction. This opens a huge possibility of ways to build in Minecraft with just a few new blocks!
It's sad that Carpenter Blocks Minecraft does not get updated very often. The latest version of the Carpenters mod is 1.7.10, which means you can't apply texture in the newest Minecraft updates. But still, the Minecraft Carpenter mod is one of the best Minecraft mods for builders!
Require
Note: Need to install more required mods to use the best Mods, all must use the same version
How to install Carpenters Blocks Mod
Make sure you have Forge Mod installed
Search and download any mod you like on our website.
You will get the .jar file after downloading, copy the file.
Press Window + R, type %appdata%, press Enter.
Navigate to the .minecraft folder, then to the mods If you don't have a mods folder, create one, paste the .jar file inside the mods folder
Download Carpenters Blocks Mod