With Clay Soldier Mod, clay soldiers will battle to the death for your side! They're human-like in strength and are capable of taking down any opponent.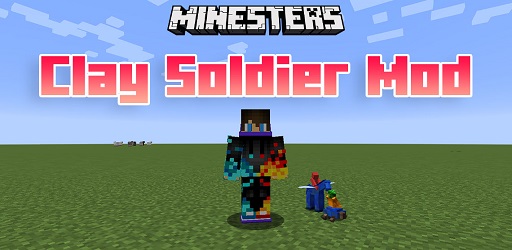 Description about Clay Soldier Mod
Clay Soldier Mod – Build Your Army with Clay Soldier Mod
Imagine that I was to tell you that you can now create troops out of Clay. You may think I am crazy. Not Anymore! Clay Soldier Mod brings you the ultimate Clay Army. You will get small clay men who will battle to defend his team; little clay men may seem to be weak, but careful they are not at all! They have the strength of a human and, therefore, can kill anyone if he has a good crew behind him to assist him!
It is necessary for the clay soldiers to work as a group in order for them to be more harmful to other teams; if a single clay soldier attempts to kill a group, he has practically little chance of succeeding. With this mod, you may fight in teams against other teams or against zombies. It also allows you to outfit your warriors with a variety of weaponry, each with its own set of skills, and even includes clay constructions in the game.
Clay soldiers may be made by placing a block of Clay on top of Soul Sand and creating four soldiers. To modify the Clay Soldier's color, you can use dye. So much can be discovered and explored with this Clay Soldier Mod. You have a variety of options for upgrading your warriors. Make them watch over your constructions and crafts to take them to wars. Anyone may use the Clay Soldier Mod, which is entirely free. It has been updated to ensure that it is compatible with the latest version of Minecraft.
Require
Note: All must use the same version
How to install Clay Soldier Mod
Make sure you have Forge Mod installed
Search and download any mod you like on our website.
You will get the .jar file after downloading, copy the file.
Press Window + R, type %appdata%, press Enter.
Navigate to the .minecraft folder, then to the mods If you don't have a mods folder, create one, paste the .jar file inside the mods folder
Download Clay Soldier Mod