Custom NPC 1.16.5 → 1.12.2
The Custom NPCs Mod includes lots of new additional items and functions. You may now include any kind of NPC in your game, making the environment seem more busy.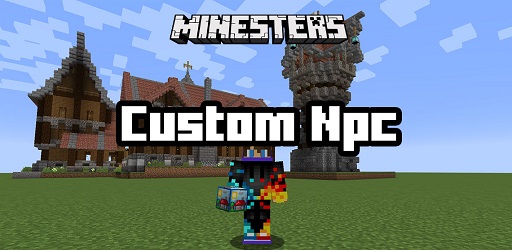 Description about Custom NPC
Custom NPC – Create Your Own NPC in your Village on Minecraft
It's a fantastic experience to go on an adventure in a world created with Minecraft. And not only because of the obstacles you conquer or the things you can create but because of the individuals you meet along the road. However, the same cannot be said about the non-player characters (NPCs), who leave much to be wished.
These NPCs can be configured to perform a multitude of additional functions thanks to the efforts of modders. Even in the most unusual ways, they may be of assistance. Custom NPC mods are used to build new NPCs, mobs, and even duplicate existing NPCs. The rest of the equipment is mostly utilized for aesthetic reasons, while the weapons deliver damage comparable to that dealt with by vanilla weaponry.
This mod adds additional elements such as factions, roles, and jobs, as well as conversations and a quest system to the game. You can build unique NPCs with the Custom NPCs mod, and you can adjust their occupations, what they carry, and sometimes even their appearance with the ability to make them look as you want them to.
The perks of your NPC may be edited in a simple GUI that explains the benefits in different tabs, making it easy to customize your character. In this section, you may adjust their health to suit your needs. Anything from unarmed merchants to armed security is possible with them. Adding quests to your game is as simple as setting up your NPCs in the appropriate places. Set what your NPC wants you to perform or discover. You now have another motivation to keep playing the game!
Require
Note: All must use the same version
How to install Custom NPC
Make sure you have Forge Mod installed
Search and download any mod you like on our website.
You will get the .jar file after downloading, copy the file.
Press Window + R, type %appdata%, press Enter.
Navigate to the .minecraft folder, then to the mods If you don't have a mods folder, create one, paste the .jar file inside the mods folder
Download Custom NPC
Compatible Version