Damage Indicator Mod 1.12.2
When playing Minecraft, players can see their own health, but not other mob's health. The Damage Indicators Mod solves this problem in a simple and aesthetic way.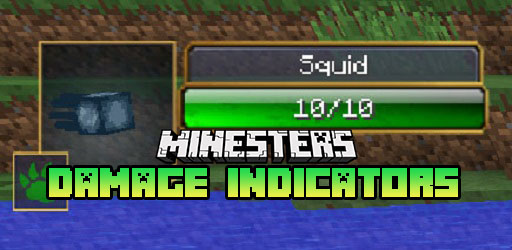 Description about Damage Indicator Mod
Damage Indicator Mod: Mob Health Bars
In Minecraft, players can see their health represented by little hearts. However, for most mobs, players will have no idea how much health they have left after a hit. The Minecraft Damage Indicator helps with this. The mobs (passive, friendly, and hostile) are all given health bars. These will look like little lines above each mob's head, rather than hearts.
Players will be able to see the damage indicators when they put their mouse over the mob. They do not need to click on the mob. When players do this, a picture of the mob will appear in the corner of the screen, along with its health bar. The health bar will also show how many hits it will take (with the player's current weapon) to kill the mob. This will work for both mobs that are in vanilla Minecraft and mobs that come from mods. However, players may need to do a little extra set up in the Damage Indicator's mod file to make it work for modded mobs. Players can press the period key (.) to open up a menu to do this.
The Damage Indicator Minecraft mod was created by rich1051414 in 2013 and is free to download. However, the pack has not been updated since 2019. This was the [1.12.2]DamageIndicatorsMod-3.5.1 update. Because it has been so long since the mod pack was updated, it may not be compatible with Minecraft versions 1.15 (the Buzzy Bees update) or higher. No other mods are required to download the Damage Indicators mod.
How to install Damage Indicator Mod
Make sure you have Forge Mod installed
Search and download any mod you like on our website.
You will get the .jar file after downloading, copy the file.
Press Window + R, type %appdata%, press Enter.
Navigate to the .minecraft folder, then to the mods If you don't have a mods folder, create one, paste the .jar file inside the mods folder
Download Damage Indicator Mod