Dragon Mount Legacy Mod 1.16.5 → 1.16.2
Dragon Mount Legacy is a mod that enables you to hatch eight different dragons and then ride them after they have reached adulthood in the game.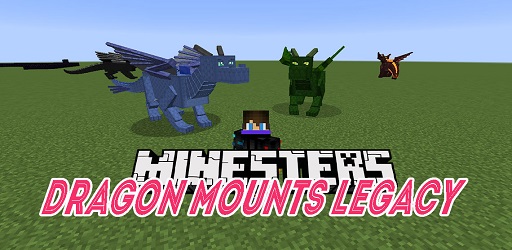 Description about Dragon Mount Legacy Mod
Dragon Mount Legacy – Get Your Own Personalized Dragon in Minecraft
Since its release, Minecraft has always had something absent. However, that is no longer true! The Dragon Mount Legacy's goal is to introduce dragons into our Minecraft world. It is possible for players to tame these dragons, which may be summoned into the world by egg hatching. A dragon, once tamed, may join us on our expeditions, and we can even perch on his back to glide in survival mode.
You can finally put to better use of the egg you received as a reward for fighting the Ender Dragon. It takes a few seconds to position the egg and right-click on it. It's preferable if you can put it in an environment that you'll be using to maintain the Dragon. It will finally hatch into a young dragon once a significant amount of time has passed.
It will grow on its own, and after it has reached adulthood, it may be tamed by feeding it raw fish. No matter where you go, the Dragon will be there with you. They will follow you for the whole of the game's progression, making the game far more exciting. You have the option of hatching a total of 8 eggs, each of which contains a different dragon, such as the Nether Dragon, Aether Dragon, Fire Dragon, New Saddle, and other variations.
The Dragon Mount Legacy mod for Minecraft makes flying a breeze! The Carrot On A Stick is all you need to fly the Dragon in the direction you're gazing. As previously stated, there are eight distinct breeds of Dragon, and each has a unique spawning technique that must be followed.
Require
Note: All must use the same version
How to install Dragon Mount Legacy Mod
Make sure you have Forge Mod installed
Search and download any mod you like on our website.
You will get the .jar file after downloading, copy the file.
Press Window + R, type %appdata%, press Enter.
Navigate to the .minecraft folder, then to the mods If you don't have a mods folder, create one, paste the .jar file inside the mods folder
Download Dragon Mount Legacy Mod
Compatible Version
1.16.5 - 1.16.4 - 1.16.3 - 1.16.2