Fairy Lights Minecraft Mod 1.16.5 → 1.12.2
Fairy Lights is a popular Minecraft light mod with over 20,000,000 downloads. It not only beautiful but it's also fit in the Minecraft vanilla theme incredibly well.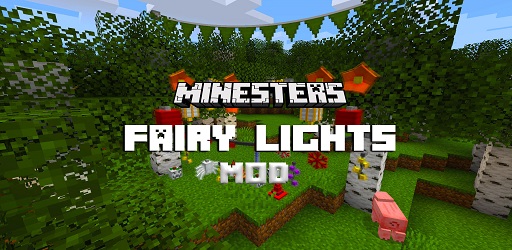 Description about Fairy Lights Minecraft Mod
Fairy Lights Minecraft - Decorate Your Build with Hanging Lights
Minecraft interior blocks are poor! That's why there are so many Minecraft mods out there that can significantly improve your build with a lot of beautiful and custom blocks! And Fairy Lights mod is one of them. With over 20,000,000 downloads, this decoration mod is so popular and is being used by many builders because the custom light Fairy Lights bring is not only beautiful, but it's also fit in the Minecraft vanilla theme incredibly well.
Fairy Lights mod Minecraft provides 90+ different lights with different variations. For example, you can just hang your life as you wrap it around your noel tree. Or just hang it from a tall tree to your house. Those lights are not only gorgeous but also can emit light to prevent mob spawn and function just like a normal Minecraft light source.
The material overall to craft Fairy Lights in Minecraft is fairly cheap and easy to find. Mostly they will cost iron, paper, string, stick, glass, glowstone, and any dyes of your choice. Otherway, if you're a fan of creepy or Halloween themes, Minecraft Fairy Lights got you covered too with a bunch of spooky lights like ghost light, jack o'lantern, spider light, skull light, and even more! But remember, you cannot go over 32 blocks with lights in Minecraft Fairy Lights mod, so build your lights wisely!
How to install Fairy Lights Minecraft Mod
Make sure you have Forge Mod installed
Search and download any mod you like on our website.
You will get the .jar file after downloading, copy the file.
Press Window + R, type %appdata%, press Enter.
Navigate to the .minecraft folder, then to the mods If you don't have a mods folder, create one, paste the .jar file inside the mods folder
Download Fairy Lights Minecraft Mod