Do you love Minecraft and FNaF at the same time? We've got a perfect Minecraft adventure for you! In the FNaF Universe mod, you can fight those crazy animatronics!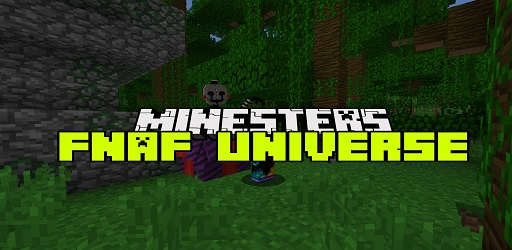 Description about FNaF Universe Mod
FNaF Universe Mod: Play Five Nights at Freddy's in Minecraft
FNaF Universe (or Five Nights at Freddy's Universe Mod) is a Minecraft mod based on the FNaF series game, where the player needs to be in the security room and must not let the animatronics enter the room. While in Minecraft, you will be playing an adventure map, going across different rooms and areas to escape those famous animatronics like Freddy Fazbear, Foxy, or the Puppet.
With over 600,000 downloads, the Minecraft FNaF Universe mod is welcome a lot by the Minecraft community as well as the FNaF fan. Another reason why FNaF Universe mod Minecraft is succeeded is that they also add some popular fan games like Five Nights at Candy's, Those Nights at Rachel's, The Joy of Creation, and a lot more!
Not only adding custom models for those animatronics characters, but the FNaF Universe mod for Minecraft also has animations for them. So they can walk, run, and try to scare you. So make sure to hide carefully if you don't want a jumpscare.
The only sad thing about FNaF Universe is the developer of this map just stopped creating this due to the time constraint, the animation required and the AI for the animatronics. But you can still download the latest version of it, which is FNaF Universe mod 1.12.2.
Require
Note: All must use the same version
How to install FNaF Universe Mod
Make sure you have Forge Mod installed
Search and download any mod you like on our website.
You will get the .jar file after downloading, copy the file.
Press Window + R, type %appdata%, press Enter.
Navigate to the .minecraft folder, then to the mods If you don't have a mods folder, create one, paste the .jar file inside the mods folder
Download FNaF Universe Mod