Fossils and Archeology Mod 1.12.2
Fossils and Archeology Mod adds ancient creatures to Minecraft and new biomes and fossil-based functionality. Many dinosaurs have been brought to life!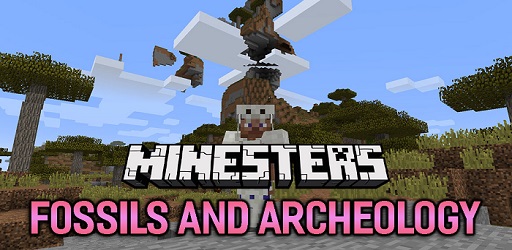 Description about Fossils and Archeology Mod
Fossils and Archeology Mod – Get Experience of an Ancient Realm
The Fossils and Archeology Revival mod not just introduce extinct animals to the game world but also adds a slew of other items such as fossils, eggs, old blocks, and tools, as well as DNA and laboratory equipment. This mod includes everything you could possibly need to create your own exclusive Jurassic Park experience.
Although Flammarilva and Team July first launched the mod over a decade ago, a whole new generation of modders has been devoted to seeing it realize its full potential since the mod became open source. Added material and precision have elevated this release to a new level of excellence over time.
At the moment, this mod provides access to about 50 unique ancient animals. On the other hand, an archaeological site may be explored further, and stunning new blocks can be collected. Fossils and old structures may now be found by players, where they can discover new items.
You may use equipment to harvest DNA from these fossils that you gather. That makes you an archaeologist in the truest sense. Countless innocuous creatures and some extremely aggressive ones may be created by artificially renewing this DNA. This mod will get a substantial amount of additional material, which is expected considering its age. It's quite probable that another update will include more species and vegetation from the Paleozoic period prior to the emergence of dinosaurs. Isn't that exciting? Consider giving it a try.
Require
LLibrary
Note: Need to install more required mods to use the best Mods, all must use the same version
How to install Fossils and Archeology Mod
Make sure you have Forge Mod installed
Search and download any mod you like on our website.
You will get the .jar file after downloading, copy the file.
Press Window + R, type %appdata%, press Enter.
Navigate to the .minecraft folder, then to the mods If you don't have a mods folder, create one, paste the .jar file inside the mods folder