Herobrine mod is ideal for individuals who are familiar with the Minecraft legend Herobrine. A new level of terror is introduced. Make sure you are aware of it when playing!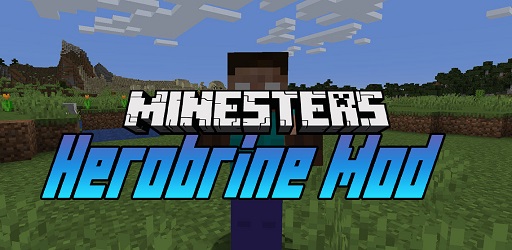 Description about Herobrine Mod
Herobrine – The Arrival of The Cursed Legend in Minecraft World
If you've ever played Minecraft, you've probably heard of the Cursed Legend Herobrine. While various hypotheses and explanations have been proposed and verified, it has been established that Herobrine never existed in the first place! The Herobrine Mod allows you to see and feel what it might be like if Herobrine were a genuine character of the game. Herobrine will appear randomly across the realm or may be summoned by utilizing a totem.
Many new stuff has been added to Minecraft thanks to the Herobrine Mod, which is both great and bizarre. Herobrine is frequently seen in various places or behind the player, quietly observing them. He has the ability to teleport, much like an Enderman, and he can make disturbing noises, which creates a fantastic experience of the journey.
As you go through your quest, you will come across various new objects, such as personalized items, which will provide you with a special power when equipped. Alternatively, you may discover personalized potions by exploring various secret chambers hidden around the realm. To summon Herobrine, you first need to create a unique Herobrine totem block with bones and souls. Then, you must stack two gold bricks over each other. Place a netherrack over top of the Herobrine block; Herobrine summoned!
In addition, the Herobrine mod for Minecraft does not need any other plugins to be installed to play. You can directly install the latest version and start exploring the world with Herobrine. Playing the Herobrine mod requires great caution. It's possible that Herobrine will cause chaos in your realm.
Require
Note: All must use the same version
How to install Herobrine Mod
Make sure you have Forge Mod installed
Search and download any mod you like on our website.
You will get the .jar file after downloading, copy the file.
Press Window + R, type %appdata%, press Enter.
Navigate to the .minecraft folder, then to the mods If you don't have a mods folder, create one, paste the .jar file inside the mods folder
Download Herobrine Mod