Inventory Tweaks Mod 1.12.2
Sorting out the inventory in Minecraft is always a painstaking task but not anymore with the Inventory Tweaks mod. It makes managing your inventory a breeze!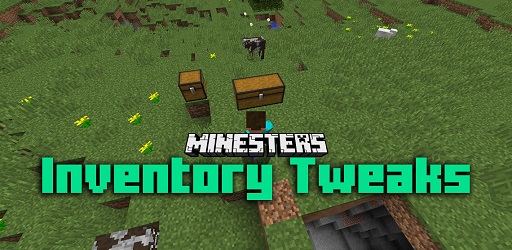 Description about Inventory Tweaks Mod
Manage Minecraft Inventory Easily with the Inventory Tweaks Mod
Let's face it: You're not a miner. You're a collector of incredible things, and you'd rather spend your time making sense of your inventory than trying to keep it under control. There comes the Inventory Tweaks.
You don't need to settle for manual sorting, stacking, reorganizing, or even worse—taking time to re-mine the blocks you need or replacing the broken tools. With Minecraft Inventory Tweaks mod, you can do all of these things with just a click of a button and do it all in single and multiplayer modes.
The Minecraft mod Inventory Tweaks works out of the box—all you need is to install it and start playing. It will automatically replace all broken tools and armors as they break and stack items that run out.
The Inventory Tweaks Minecraft offers plenty of shortcuts to transfer the items from one place to another. And best yet? You can customize the inventory sorting with various configuration files.
Managing your inventory is one of the least fun parts of playing Minecraft. Sure, it's great when you've got a full stack of cobblestone or a ton of iron, but when you're digging through stacks and stacks of dirt and gravel, it can be incredibly frustrating, not to mention time-consuming. The Inventory Tweaks can save plenty of your time by taking care of your inventory.
Require
Note: Need to install more required mods to use the best Mods, all must use the same version
How to install Inventory Tweaks Mod
Make sure you have Forge Mod installed
Search and download any mod you like on our website.
You will get the .jar file after downloading, copy the file.
Press Window + R, type %appdata%, press Enter.
Navigate to the .minecraft folder, then to the mods If you don't have a mods folder, create one, paste the .jar file inside the mods folder
Download Inventory Tweaks Mod