Kimetsu no Yaiba (Demon Slayer) 1.16.5
This Mod is based on the popular anime Demon Slayer and puts you right the action with Demons. There are several swords and demon arts that the player can learn.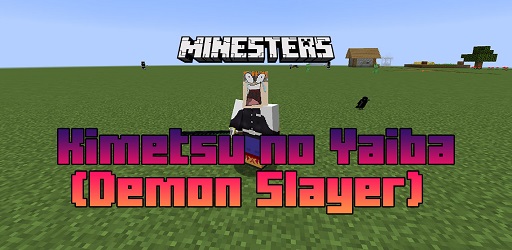 Description about Kimetsu no Yaiba (Demon Slayer)
Get Into Battle with Demons with The Demon Slayer Mod
Demon Slayer is a mod that is based on the popular manga and anime series "Kimetsu no Yaiba." It brings various components of the tale to Minecraft, enabling users to recreate the tensions and clashes in a visually stunning way. In Demon Slayer Mod, you'll be able to take part in the conflict between Slayers and the Demon.
Features like Sword and demon arts may be acquired by players and used to improve their abilities. In addition, players can visit several of the well-known protagonists from the anime or polish their abilities to beat the whole Upper Moon as well as Muzan to once again bring about a peaceful world.
Upon entering your realm for the first time, a prompt will appear telling you to look down. As a result of this, you will be assigned to one of the many families, each of which has its unique set of traits that are not tied to your race or Art style. These families will provide you with distinct advantages; for example, the Rengoku family enables you to unleash a special move on Flame Breathing. The Kocho family can make you deal poison on impact, but your punch will be somewhat weaker.
Demon Slayer Mod goes all out since it contains a great deal of material to the game. You'll be able to find new items, skins, and figure model which is based on the show's cast in this expansion! The player must go to find new locations to advance and receive the mod's content. It is a must-try for all the Demon Slayer fans!
Require
Note: Need to install more required mods to use the best Mods, all must use the same version
How to install Kimetsu no Yaiba (Demon Slayer)
Make sure you have Forge Mod installed
Search and download any mod you like on our website.
You will get the .jar file after downloading, copy the file.
Press Window + R, type %appdata%, press Enter.
Navigate to the .minecraft folder, then to the mods If you don't have a mods folder, create one, paste the .jar file inside the mods folder
Download Kimetsu no Yaiba (Demon Slayer)