Little Tiles gives you the option to make anything you wish. It provides a means to enhance the overall detail of every build. Bring your creativity to the game.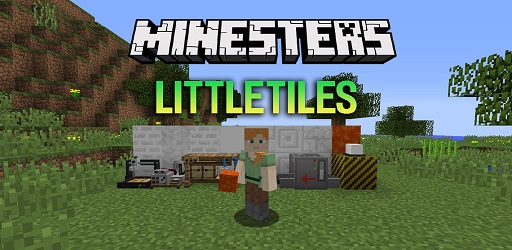 Description about Little Tiles Mod
Little Tiles – Build Your Imagination with Custom Design in Minecraft
You must have been frustrated by the fact that we are unable to adjust the size and form of the Minecraft cube. It is possible to turn this desire into a reality because of the tremendous efficiency provided by this Little Tiles mod. In order to create customized shapes and sizes, the Little Tiles mod enables you to modify the block to your liking.
However, unlike Minecraft, where a single block is made up of 4096 micro-blocks, Little Tiles does not have this restriction. Little Tiles mod provides its own charm that allows users to utilize this ability to make anything they want from a set of little tiles. It is possible to take each and every block and place it in the function using the hammer tool. Players may simply change the block size they wish to generate from the original block.
You may arrange your tiles to make doors, seats, ladders, no-clip storage, and any other kind of furniture construction builds you can imagine. For as long as it is inside the 16x16x16 dimensions, you are free to use any range in between. There is a plethora of possible configurations for this mod and several possible uses. You have the ability to build unique items.
With this amazing mod, you can create almost anything in the game! When you're done crafting, just go ahead and get your creation with the hammer, all you have to do is shift + right-click on your creations. As a result, it becomes a common feature. We strongly recommend you give this Little Tiles Mod a go.
Require
Note: Need to install more required mods to use the best Mods, all must use the same version
How to install Little Tiles Mod
Make sure you have Forge Mod installed
Search and download any mod you like on our website.
You will get the .jar file after downloading, copy the file.
Press Window + R, type %appdata%, press Enter.
Navigate to the .minecraft folder, then to the mods If you don't have a mods folder, create one, paste the .jar file inside the mods folder
Download Little Tiles Mod