Lycanites Mobs Mod 1.16.5 → 1.12.2
This mod includes 100 new mobs that may be found in biomes, dimensions, and other locations. Expect to see enraged elementals such as Cinders or Spriggans sprouting from flames.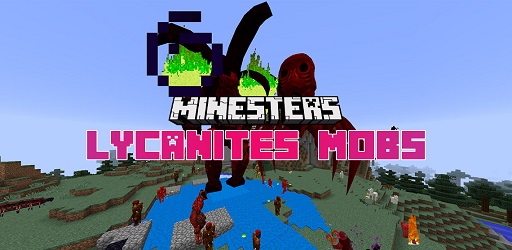 Description about Lycanites Mobs Mod
Make Your Minecraft More Interesting by Adding Lycanites Mobs
Have you ever noticed that Minecraft offers a relatively limited number of mob choices, which can make the game seem rather tedious at times? With Lycanites Mobs Mod, that is no longer the case! Lycanite's Mobs Mod brings many new mobs to various biomes, dimensions, and other locations. They range from gentle Makas suitable for agriculture mammal-like reptiles with gigantic sails to frightening Grues, which are composed of the darkness itself!
You can also acquire a Warg mount and use a Soulstone to link it to your character, enabling you to summon and disperse it as you like. You can also create a Summoning Staff or Summoning Pedestal, as well as a Soulgazer, to allow you to add each beast you confront to your Beastiary and afterward summon it as part of a provisional minion horde, either on the battlefield or at your base to keep watch while you are away
A new Equipment System has been added to Lycanites Mobs. Monsters will occasionally drop Equipment Parts, which can then be built in an Equipment Forge to produce powerful weapons and tools that look strange and amazing based on what you combine them with.
Lycanites Mobs have a total of 21 distinct elements throughout the whole mod. This consists of 6 fundamental elements and 15 para-elements. Para-Elements are the result of the fusion of two different elements. Every mob is characterized by two types of elements: the basic and the para-element. The following mod is a must-try for those who like new challenges! Make sure to download the most recent version of the mod to take part in the challenges.
Require
Note: Need to install more required mods to use the best Mods, all must use the same version
How to install Lycanites Mobs Mod
Make sure you have Forge Mod installed
Search and download any mod you like on our website.
You will get the .jar file after downloading, copy the file.
Press Window + R, type %appdata%, press Enter.
Navigate to the .minecraft folder, then to the mods If you don't have a mods folder, create one, paste the .jar file inside the mods folder
Download Lycanites Mobs Mod
Compatible Version
1.16.5 - 1.15.2 - 1.14.4 - 1.12.2