The Malisis Doors Mod adds a variety of additional fun doors to Minecraft. Your doors may also be built from scratch that allows you to choose how they appear.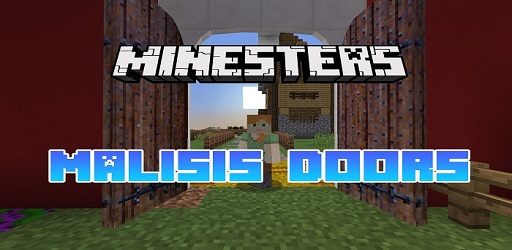 Description about Malisis Door Mod
Malisis Door – Add a Whole New Dimension to Your Minecraft Door Creation
Have you ever thought that the doors in Minecraft are repetitive since they are all the same? Once you have Malisis Door on your side, you won't have to worry about it anymore. A cool feature of the mod is that the majority of the new doors slide into their neighboring blocks. Depending on the sort of door you're searching for, this may create a smoother design and, occasionally, a better appearance.
In terms of architectural design, this mod contains about everything you could ask for. One of the most appealing aspects of this mod is that it does not need any intricate Redstone configuration in order for the doors to function. The Malisis door mod also includes huge doors if you ever need one for a grand entry. It also includes every type of door you can imagine, from Wooden doors to Garage doors.
With the Malisis door mod and its extensive collection, you can instantly transform your construction since you can now customize each entry according to its intended use. You may create elaborate items without having to worry about compromising the door's functionality.
Overall, the Malisis door mod is a fantastic addition for any Minecraft player who enjoys putting in the extra effort to make their build seem better. You may download the most recent version of the mod and browse through the many door options.
Require
Note: All must use the same version
How to install Malisis Door Mod
Make sure you have Forge Mod installed
Search and download any mod you like on our website.
You will get the .jar file after downloading, copy the file.
Press Window + R, type %appdata%, press Enter.
Navigate to the .minecraft folder, then to the mods If you don't have a mods folder, create one, paste the .jar file inside the mods folder
Download Malisis Door Mod