Mekanism is a famous automation and high technology mod that provides a bunch of new machines, ores, upgrades, and transportation methods in the game.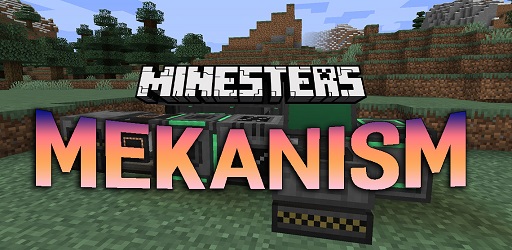 Description about Mekanism Mod
Mekanism: Automation and High Tech Machinery Minecraft Mod
Mekanism is a popular Minecraft automation mod that adds several news machines into the game with the only purposes, automating pretty much any process in the game and improving the quality of life. With over 56,000,000 downloads only in five years, Mekanism mod proves its quality and well-optimized performance by making its way into a lot of other famous Minecraft modpacks like Enigmatica, IndistrialCraft, and many more!
With Minecraft Mekanism, you can literally say no to mining and crafting tasks since this mod can help you automate it all. First of all, the Minecraft Mekanism mod introduce several new ores that are generated naturally all over the world like Osmium, Tin, Copper, and Certus Quartz. Those are essential minerals to craft the main machines in Mekanism. In Minecraft mod Mekanism, you can see many machines that have the same functionality as vanilla Minecraft blocks like the furnace, or completely new functions like ore crusher or the alloy maker.
Machines in Mekanism Minecraft mod have various levels for you to upgrade. With each level, the machine will have more slot to process, cost less fuel/energy, and has its speed significantly increased. In the end game, you can just smelt five stack ores within a minute with double or even triple the amount. The main method of transportation items and energy in Mekanism mod is via pipes. You will have different types of pipes to transfer specific things like items, liquid, and energy.
Besides automation stuff, Mekanism mod Minecraft also has some items in technology aspect like Jetpack that allow you to fly even in survival mode, or a scuba mask and tank allow you to freely explore the ocean life. You can even craft yourself a mini robot in Mekanism Mods. They can help you by making themself as a portable crafting table, furnace, anvil, and chest. You can find the download link for the Mekanism mod below!
Require
Note: Need to install more required mods to use the best Mods, all must use the same version
How to install Mekanism Mod
Make sure you have Forge Mod installed
Search and download any mod you like on our website.
You will get the .jar file after downloading, copy the file.
Press Window + R, type %appdata%, press Enter.
Navigate to the .minecraft folder, then to the mods If you don't have a mods folder, create one, paste the .jar file inside the mods folder
Download Mekanism Mod