Minecraft Comes Alive Mod 1.12.2
Minecraft Comes Alive is a popular Minecraft mod that brings the interaction with Villagers in Minecraft to a new level! You can trade, marry, and have a child.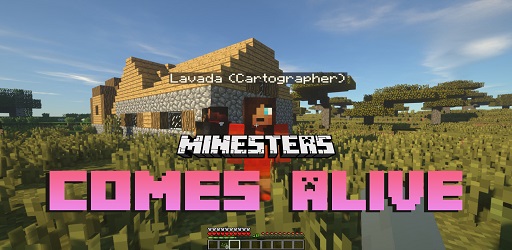 Description about Minecraft Comes Alive Mod
Minecraft Comes Alive: Real-Life Simulation with Villagers
Minecraft Comes Alive is a popular Minecraft mod that brings a ton of features into the game. Just like its name, Comes Alive mod makes every interaction with Villager is important and impactful into your late game. With over 10,000,000 downloads, Minecraft Comes Alive mod makes you not feel lonely in the Minecraft world anymore! Instead, you now have custom villagers, marriage, babies, and stories.
Villagers are not spawned with a blocky texture and always yelling "Hrrr" at you. They now have over 250+ unique skins with custom trading and profession. Villagers in Comes Alive mod are either male or female, not just only female like in vanilla Minecraft. You can even interact with them, like talk, ask them to follow, give gifts, tell jokes, and even more! Over time, you will build a stable relationship with each villager. And soon, you can even marry them!
Do you think it's over? No! In Minecraft Comes Alive!, after marrying a village, you can have a baby boy or girl. They will grow over time and can work for you in specific aspects like mining, cutting, hunting, or farming. The choice is yours! And of course, you can go with the bad story in Minecraft mod Comes Alive, instead of giving Villagers gifts, you can slay them to reduce your reputation. Who knows what's gonna happen? And finally, there is a secret feature lay in a Hardcore mode. So if you're curious what that is, time to install Minecraft Comes Alive and try it out!
How to install Minecraft Comes Alive Mod
Make sure you have Forge Mod installed
Search and download any mod you like on our website.
You will get the .jar file after downloading, copy the file.
Press Window + R, type %appdata%, press Enter.
Navigate to the .minecraft folder, then to the mods If you don't have a mods folder, create one, paste the .jar file inside the mods folder
Download Minecraft Comes Alive Mod
Compatible Version