If you're a fan of realism, Mo' Bends is a Minecraft mod for you! The mod adds several new animations to the game, making the character actually bend!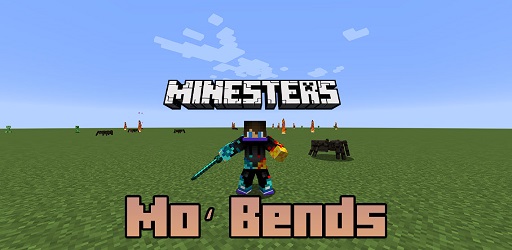 Description about Mo' Bend Mod
Mo's Bend Mod: Best Realistic Minecraft Animation Mod
Mo Bends is a popular Minecraft mod that significantly improves the animation in Minecraft in almost every aspect. Just like its name, every single entity in Minecraft is now bent when moving and they have realistic animation as well. With over 15,000,000 downloads, Mo Bends mod did a really good job on implementing a smooth and aesthetically movement for players, zombies, spiders, cows, pigs, and even more!
Minecraft Mo Bends mainly focus on the animation of the player. They include standing, walking, running, jumping, sprint jumping, swimming, three sword attacks, fist punch, and sneaking animation. It's even cooler if you play in third-person perspective mode, where you can see all the movements just like a real RPG game. Really immersive with an old Minecraft animations mod!
Besides the player, Mobends also provide several general animations for hostile and passive mobs like the standing and walking animation for zombies. They're now more terrifying when chasing you in the dark. So are the skeletons and creepers, they will run towards you with their head bent over. So watch out for them! The most horrified one in Mobend mod must be the spider. They now have eight long legs with an actual wall climbing animation!
Other secondary features in Minecraft Mo Bend mod is it has additional effects like the sword trails, arrow trails, custom hurt effect, and custom death effect. With the sword trails effect on, you will see a color trail follow your sword each time you swing it, just like any dash and splash game. While the arrow trails create a trail behind your arrow so it's more visible to see where your arrow hit.
With all of the features above, Mo Bends Minecraft is a client-side mod, which means only you will see the effect of the mod while other people on the server will have a normal look.
Require
Note: All must use the same version
How to install Mo' Bend Mod
Make sure you have Forge Mod installed
Search and download any mod you like on our website.
You will get the .jar file after downloading, copy the file.
Press Window + R, type %appdata%, press Enter.
Navigate to the .minecraft folder, then to the mods If you don't have a mods folder, create one, paste the .jar file inside the mods folder
Download Mo' Bend Mod