Mrcrayfish Furniture Mod 1.18.2 → 1.12.2
MrCrayfish Furniture mod is a Minecraft mod made by MrCrayfish. It adds a lot of custom blocks and items with custom models, textures, and functionality.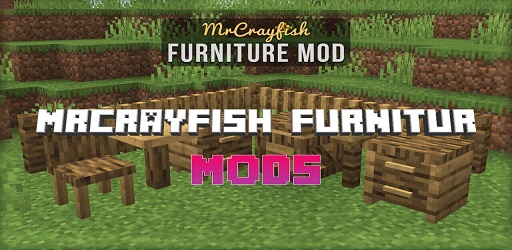 Description about Mrcrayfish Furniture Mod
Mrcrayfish Furniture Mod: Decorate Your Minecraft Modern House
MrCrayfish Furniture mod is one of the most popular mods made by MrCrayfish, a Minecraft programmer who made a lot of Minecraft mods and also produced some videos about turning people's ideas into Minecraft mods. Besides Minecraft MrCrayfish Furniture mod, he also has 2 super high-quality mods called "Gun Mod" and "Vehicle Mod".
Minecraft is a survival game, but the building aspect does take a huge role too! While Minecraft has so many blocks for building, it is mostly for the exterior. For interior design, players need to be creative. To reduce the effort and time for interior decoration, MrCrayfish Furniture mod adds a bunch of custom blocks and items into the game. They have their own model, texture, and even functionality.
Minecraft mod MrCrayfish Furniture covers pretty much any interior in a normal house. A chair which you can sit on, a table where you can place any items on it for decoration. You can even craft a water sink or a refrigerator to store food. From living room to the kitchen, MrCrayfish furniture mod got you covered!
To install MrCrayfish Furniture mod, you must install Forge first! Then just download and put the mod file into your mods folder. And you're good to decorate your modern Minecraft house!
Require
Note: Need to install more required mods to use the best Mods, all must use the same version
How to install Mrcrayfish Furniture Mod
Make sure you have Forge Mod installed
Search and download any mod you like on our website.
You will get the .jar file after downloading, copy the file.
Press Window + R, type %appdata%, press Enter.
Navigate to the .minecraft folder, then to the mods If you don't have a mods folder, create one, paste the .jar file inside the mods folder
Download Mrcrayfish Furniture Mod
Compatible Version
1.18.1 - 1.18 - 1.17.1 - 1.17 - 1.16.5 - 1.16.4 - 1.16.3 - 1.16.2 - 1.16.1 - 1.16 - 1.15.2 - 1.14.4 - 1.14.3 - 1.14.2 - 1.14.1 - 1.14 - 1.12.2