The Orespawn Mod brings in several of the very strong new monsters from the Avatar universe. Enhance the strength of your grasp on the realm greatly.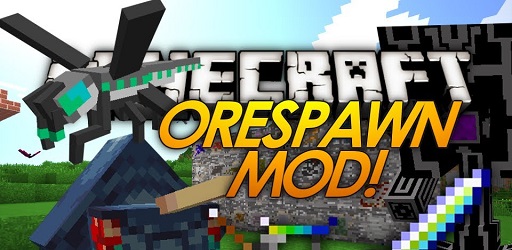 Description about Orespawn Mod
Orespawn – Revive Some Great Superpower in Your Minecraft Realm
In this mod by TheyCallMeDanger, a variety of new weapons and bosses are introduced, along with a number of very strong new enemies from the Avatar universe. In addition, the Prince has the ability to mature and become much more powerful. As a result, he ranks among the most powerful people in the realm!
The Orespawn mod is among the most comprehensive mods currently available. A large number of enemies and mobs may be found in each of the four new dimensions. A large number of unique things are available, in addition to a large range of weapons and armor. The mod takes you on an insane adrenaline trip.
Not only can you get weapons and monsters, but you can also obtain some incredible resources thanks to the Orespawn Mod. With this update, you may now discover Uranium and Titanium Ore, which were previously unavailable, which you may then utilize to create some very incredible armor and safeguards for yourself and your friends. This wonderful mod will also have to be installed with the Minecraft Forge and is compatible with Minecraft's newest versions.
This mod was initially designed to bring ores to the game to allow for the creation of Spawn eggs, but as ideas grew and spread, the mod grew in popularity and brought many new features to the game. Every detail has been carefully considered in order to give the game a fresh spark of life. It's like stepping into a whole new realm. Start picking up your sword and also get ready for an epic journey.
Require
Note: All must use the same version
How to install Orespawn Mod
Make sure you have Forge Mod installed
Search and download any mod you like on our website.
You will get the .jar file after downloading, copy the file.
Press Window + R, type %appdata%, press Enter.
Navigate to the .minecraft folder, then to the mods If you don't have a mods folder, create one, paste the .jar file inside the mods folder
Download Orespawn Mod