Scape and Run: Parasites Mod 1.12.2
It is a Minecraft Mod that adds more difficult adversaries to Minecraft. This parasite-themed survival mod also increases mob combat abilities with new adversaries.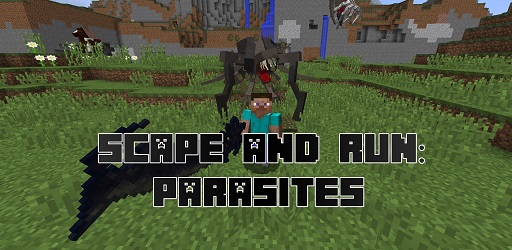 Description about Scape and Run: Parasites Mod
Adds Parasite Themed Swarms to Your Realm with The Minecraft Parasite Mod
One of our most terrifying concerns as humans is the thought of a parasitic, distorted recreation of live creatures created. To say that it haunts us would be an understatement. Minecraft Parasites mod, a mod developed by Scape and Run, brings this phobia to life in the shape of a variety of parasitic creatures, some of which have been based on existent mobs.
There are parasitic mobs that spread their infection by attacking other mobs, and these mobs may later grow into deadly and gigantic monsters that terrify the realm. As a survivor, your objective is to eliminate all parasitic organisms before they have the opportunity to develop by murdering mobs. Scape and Run Parasites has received over 270,000 downloads, making it one of the most popular horror mods available.
It will assist you in adding additional mobs to the Minecraft world that you will be able to combat with the Scape and Run Parasite Mod. The mod is extremely frightening and perhaps deadly. The creatures may also develop as a result of the lessons they acquire during their battle. One of the most impressive aspects of this mod game is that it has an injection system that terrorizes the realm of Minecraft.
These infected monsters will continue to invade your environment and infect more innocent creatures in addition to you and your friends. This increases the difficulty and excitement of the game. When a particular number of infected have been reached, the parasite will join with other parasites in order to evolve into a more formidable parasite.
Require
Note: Need to install more required mods to use the best Mods, all must use the same version
How to install Scape and Run: Parasites Mod
Make sure you have Forge Mod installed
Search and download any mod you like on our website.
You will get the .jar file after downloading, copy the file.
Press Window + R, type %appdata%, press Enter.
Navigate to the .minecraft folder, then to the mods If you don't have a mods folder, create one, paste the .jar file inside the mods folder
Download Scape and Run: Parasites Mod