Refined Storage Mod 1.18.1 → 1.12.2
If you are playing Minecraft, it's pretty common to run out of room for stuff in your chests. Worry no more! The Refined Storage mod will give you unlimited storage!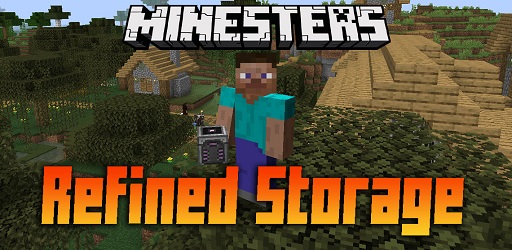 Description about Refined Storage Mod
Tap into Unlimited Minecraft Storage with the Refined Storage Mod
Minecraft is a game where you craft items, building them from the bottom up. To do that, you need storage: storage for all the raw materials and storage for the end product. And that's how Refined Storage was born.
Minecraft Refined Storage allows you to set up a network-based storage system that's massively expandable—and it works with both items and fluids. You can use various devices to customize things and blocks. It also includes devices that let you place auto-crafting in motion so that even complicated recipes are just a few clicks away. You can connect devices through the Refined Storage relay, which can be turned ON and OFF depending on your Redstone configuration.
Minecraft has long been known as a game that can be expanded by mods. These mods can change the gameplay, graphics, and mechanics. Minecraft Refined Storage mod is here to help you streamline your gameplay so that you can get back to doing what's most important: building whatever fantasy world you've got in mind.
The Refined Storage mod Minecraft also adds devices that can be used to manipulate items and blocks. Overall, if you're looking for more advanced ways to store your loot and free up some inventory space in your game, this is the mod for you.
Require
Note: Need to install more required mods to use the best Mods, all must use the same version
How to install Refined Storage Mod
Make sure you have Forge Mod installed
Search and download any mod you like on our website.
You will get the .jar file after downloading, copy the file.
Press Window + R, type %appdata%, press Enter.
Navigate to the .minecraft folder, then to the mods If you don't have a mods folder, create one, paste the .jar file inside the mods folder
Download Refined Storage Mod
Compatible Version
1.18.1 - 1.16.5 - 1.15.2 - 1.14.4 - 1.12.2