Minecraft SCP Lockdown is a Minecraft mod that combines a bunch of weird and creepy subjects from all over the internet into the game. Be prepared when exploring!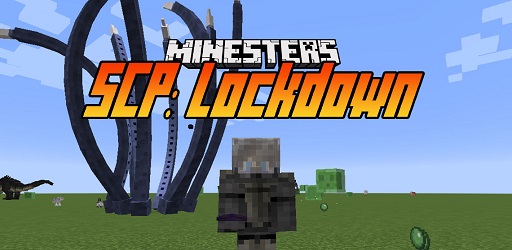 Description about SCP Lockdown Mod
SCP Lockdown: Creepy Journey in the Underground Facility
SCP Lockdown is a Minecraft mod that will completely destroy your boring mood by providing quite a fascinating and creepy journey throughout the map. Since SCP stands for Secure, Contain, and Protect, which is a secret organization that holds the government's secret and mysterious things around the world. With over 1,500,000 downloads, people actually love this mod because we're all curious to see what is actually in the SCP.
The gameplay of SCP mod Minecraft is quite simple. You're free to choose which path (or doors) you will go. Within each room, there are mysterious creatures like the Big Foot or a creepy one like the doll that will haunt and kill you if you don't make eye contact with it. Each subject in the room has their own number just like they're a product of some kind of experiment. SCP Lockdown mod provides over 120 blocks, 50 items that have unique abilities, and 76 SCPs taken from all over the internet. Minecraft SCP Lockdown also adds a bunch of new potion effects to scare you like the Anxiety effect.
With that being said, playing SCP mod for Minecraft is just like entering a zoo, but the animals here are weird and sometimes so creepy. If you're bored with a normal vanilla Minecraft, you can try this mod out with your friends too since the Minecraft SCP Lockdown mod does support multiplayer. Good luck getting scared!
Require
Note: All must use the same version
How to install SCP Lockdown Mod
Make sure you have Forge Mod installed
Search and download any mod you like on our website.
You will get the .jar file after downloading, copy the file.
Press Window + R, type %appdata%, press Enter.
Navigate to the .minecraft folder, then to the mods If you don't have a mods folder, create one, paste the .jar file inside the mods folder