Simple Storage Network 1.18.1 → 1.12.2
Storage in Minecraft is only about keeping items. But what if you want to manage and organize them without power? Simple Storage Network is the mod for you!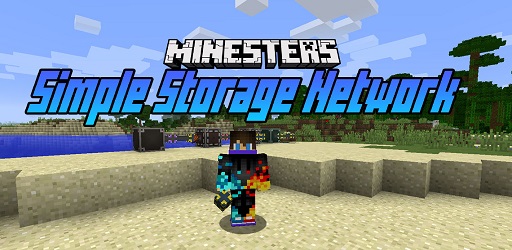 Description about Simple Storage Network
Simple Storage Network: Best Storage Minecraft Mod for Early Game
Simple Storage Network (or SSNetwork) is a well know storage Minecraft mod with over 25,000,000 downloads. The reason Simply Storage is popular is because it's a part of a super famous modpack, Sky Factory 4. Another reason is Simple Storage Network Minecraft actually helpful in the early stage of the game, both in vanilla and modded Minecraft. With easy recipes and not heavily required on any power source, the Simple Storage mod is definitely a storage mod you should try out!
Minecraft Simple Storage Network adds several new blocks with different functionalities. And you will need cables, not for transferring the energy or power, but to connect an inventory to the controller. If you make any mistakes while setting up the system, you can use A Crescent Hammer to re-configure the block and rotate the cable, super convenient!
With the Storage Request Table and other components set up correctly, you can access a crafting interface while being in the inventory itself, making it super easy to see what you have in your storage and pull them out in one place to craft stuff. You can also search for specific items within your connected inventory. Quite useful when you're lazy to scroll through a long list of items.
With an advantage like this, other mods machines tend to consume energy, but it's not the case for the Simple Storage Network mod. You only worry about the physical space when building those things. And the crafting recipe for blocks and cables in Minecraft storage mod is quite simple. You only need some iron, smooth stone, wood, and that's it!
Require
Note: All must use the same version
How to install Simple Storage Network
Make sure you have Forge Mod installed
Search and download any mod you like on our website.
You will get the .jar file after downloading, copy the file.
Press Window + R, type %appdata%, press Enter.
Navigate to the .minecraft folder, then to the mods If you don't have a mods folder, create one, paste the .jar file inside the mods folder
Download Simple Storage Network
Compatible Version
1.18.1 - 1.17.1 - 1.16.5 - 1.12.2