Spartan Weaponry 1.16.5 → 1.12.2
Spartan Weaponry is adding new versions of weapons from that Mod. It also includes a variety of unique weaponry, such as a variety of swords, polearms, and ranged weapons.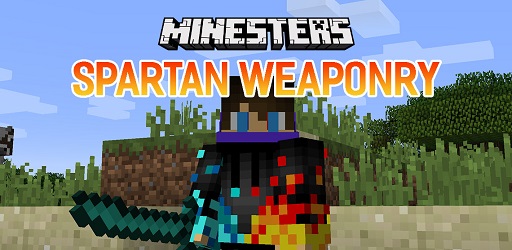 Description about Spartan Weaponry
Spartan Weaponry – A Whole New Collection of Weapons in Minecraft
Though Minecraft has a plethora of weapons and equipment, many of us have grown weary of playing with the same old weapons and tools. Not anymore! A whole new armory of weapons has been created just for Minecraft. Taking its inspirations from Balkon's WeaponMod, it introduces extra versions of weapons from that Mod while also adding a large number of new weapons of its own, such as a mix of swords, polearms, and ranged weapons.
Each sort of weapon has a unique set of characteristics that might be useful in battle in certain scenarios, such as longer reach, damage enhancements, and so on. If you combine the Spartan Weapons with the Spartan Shields mod, you may increase the effectiveness of the Spartan Weapons even more.
This Mod was created by the same creator as the previous one, and it contains a large number of shields to supplement your arsenal of weaponry. It also gives you the ability to attack while wearing the guard. You can use the tutorials that are accessible to you to learn how to make various weapons and armor. Just like with vanilla things, you may use the same enchantment table approach to choose what magic to place on your spartan weapons to add enchantment.
The most appealing feature of this Mod is that it is compatible with both the game version and the operating system that you are using. You won't have to worry about whether your computer is low-end or high-end. It operates without a hitch on all platforms. In this case, you need to download the correct Forge version and put it in your mod folder with the Spartan Weaponry mod, and you're good to go!
Require
Note: All must use the same version
How to install Spartan Weaponry
Make sure you have Forge Mod installed
Search and download any mod you like on our website.
You will get the .jar file after downloading, copy the file.
Press Window + R, type %appdata%, press Enter.
Navigate to the .minecraft folder, then to the mods If you don't have a mods folder, create one, paste the .jar file inside the mods folder
Download Spartan Weaponry
Compatible Version
1.16.5 - 1.16.4 - 1.16.3 - 1.15.2 - 1.14.4 - 1.12.2