Treecapitator Mod 1.12.2 → 1.12
Do you hate cutting the giant jungle trees in Minecraft? No more! Download the Treecapitator mod and start destroying trees in an instant. Happy chopping.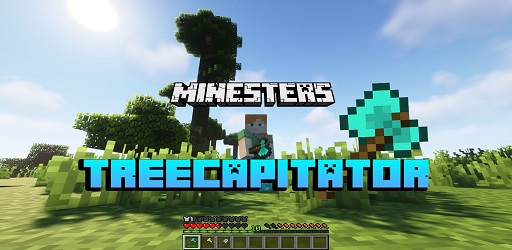 Description about Treecapitator Mod
The Treecapitator Mod for Minecraft: Destroying Trees in Seconds
Destroying the Jungle trees is definitely a chore. But what if I tell you there's a way to chop down these trees instantly? Here comes the TreeCapitator mod.
With it, you can quickly and easily cut down trees by simply hitting them with an ax. This Minecraft tree capitator mod is perfect for cleaning up an extensive forest area or quickly gathering resources for building and crafting.
The addition of the Minecraft mod TreeCapitator speeds up the removal of trees in the game. Even if there are ten blocks of monster-size trees, you can destroy them instantly.
The good thing is that you can tweak the tree decapitator mod's configuration files to simplify the task. The job itself does not take doing much. Choose any tree and hit its bottom part with an ax, and the entire tree will transform into several blocks in no time.
Demolishing leaf blocks is not a chore anymore in this Minecraft mod tree capitator. After blowing up the tree, the Minecraft mods treecapitator also allows smashing the leaf blocks. You will get to use all saplings as resources.
The Minecraft treecapitator mod saves time rather than giving you some unfair advantage in the game. You have to use the correct tools depending on the type of trees. Also, your gear will still be damaged like it would in the regular gameplay.
Update
BspkrsCore Mod
Note: All must use the same version
How to install Treecapitator Mod
Make sure you have Forge Mod installed
Search and download any mod you like on our website.
You will get the .jar file after downloading, copy the file.
Press Window + R, type %appdata%, press Enter.
Navigate to the .minecraft folder, then to the mods If you don't have a mods folder, create one, paste the .jar file inside the mods folder
Download Treecapitator Mod
Compatible Version