Tropicraft Mod 1.16.5 → 1.12.2
Tropicraft Mod will transform your world into a wonderful island theme, where you will be able to enjoy the greatest delight that you have ever experienced.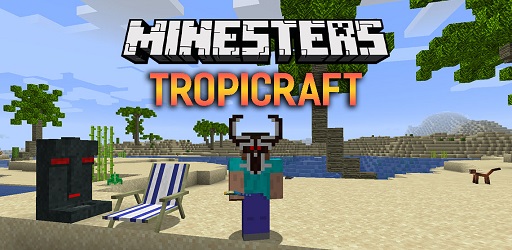 Description about Tropicraft Mod
Tropicraft - Tropical Beach Expansion in Minecraft Dimension
In Minecraft, there are many locations to explore, but a tropical island or beach isn't something we see very often. That's why the Tropicraft Mod for Minecraft will transform your world into a wonderful island theme where you may enjoy the pleasure of your life. Tropicraft is one of the game's longest-running mods, dating back to 2011, and is one of the earliest dimensional mods for Minecraft.
Sitting on a chair and drinking a Piña Colada is all it takes to enter the tropical realm. These ingredients can be found in the Overworld: Pineapples, Bamboo Chutes, and Palm Trees. There must be at least one Coconut on the Palm Tree. Coconut Chunks may be obtained by slicing open the Coconut with a Sword. A Pia Colada may be produced with an empty bamboo mug filled with bamboo chute, coconut chunks, and pineapple. This way, you will enter Tropica Realm.
New creatures, plants, riches, and biomes inhabit this tropical world. There are numerous new ores to mine in the Tropical Realm, although most ores are absent here. New sorts of villagers have been included as well. If you're sick of your regular job and just want to relax, this is the right mod for you. There are also some fish on the beaches, so if you want to capture them all at once, you may use a drawing net in the water or use fishing rods.
Crafting a beach and then relaxing on it is simple. On this island, you can create whatever you can imagine. It's also an opportunity to exhibit your own unique style. You'll find more than just scenery and a beach here, including volcanoes, animals, plants, and indigenous islanders. So enjoy each moment to the fullest.
Require
Note: Need to install more required mods to use the best Mods, all must use the same version
How to install Tropicraft Mod
Make sure you have Forge Mod installed
Search and download any mod you like on our website.
You will get the .jar file after downloading, copy the file.
Press Window + R, type %appdata%, press Enter.
Navigate to the .minecraft folder, then to the mods If you don't have a mods folder, create one, paste the .jar file inside the mods folder
Download Tropicraft Mod
Compatible Version
1.16.5 - 1.15.2 - 1.14.4 - 1.12.2