Twilight Forest Mod 1.12.2 → 1.17.1
Twilight Forest is a dimension Minecraft mod that went far beyond everyone's expectations. You can fight custom bosses like the Hydra, Naga, or the Twilight Lich.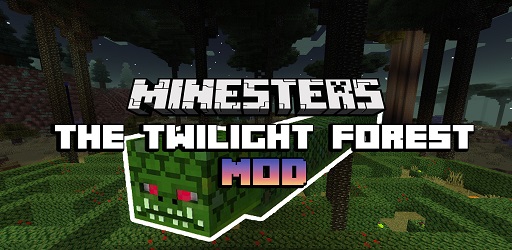 Description about Twilight Forest Mod
Twilight Forest: Huge Minecraft Expansion with Custom Dimension
Twilight Forest is an enormous dimension Minecraft mod that went super far beyond everyone's expectations. Although it was created in 2015, Twilight Forest mod content still surprises a lot of people for its content, especially boss fights, and a lot of different biomes. With that being said, that's why the Twilight Forest mod has had over 60,000,000 downloads over the past few years.
Since Minecraft only has 2 dimensions, which is the Nether and the End, and people are so used to it. Therefore, if there is any dimension mod out there, they're all getting appreciated. Talk about the entrance to the Twilight Forest dimension, you will need a 2 by 2 water portal with flowers surrounding it, isn't it unique? Not stop there, you need to throw a diamond (I know it's hurt) into the water, and BAM! The portal to the Twilight Forest is ahead!
In Twilight Forest mod, it's not only about a dimension, but it's all about custom biomes and blocks/items. Minecraft Twilight Forest has over 40 new biomes (or locations) across a big world, where you need to find them in a specific order to progress further into the mod. Minecraft Twilight Forest mod provides a lot of different mobs and creatures as well! From famous bosses like the Hydra, Naga, Ur-Ghast, The Twilight Lich,... to magical or weird creatures.
Being the most famous Minecraft mod, Twilight Forest got updated frequently to keep up with the Minecraft newest version itself. For now, you can download the Twilight Forest mod 1.17.1 and hopefully, we can experience the Twilight Forest mod in the 1.18 Cave & Cliff update! But if you want to fully play the mod, I'd recommend the Twilight Forest mod 1.12.2 version because it's the most stable version of all time!
Download Twilight Forest Mod
Compatible Version