Vic's Modern Warfare 1.12.2
Are you ever want a new powerful range weapon in Minecraft? Welcome to Vics Modern Warfare, a Minecraft mod that provides a ton of guns, grenades, and attachments!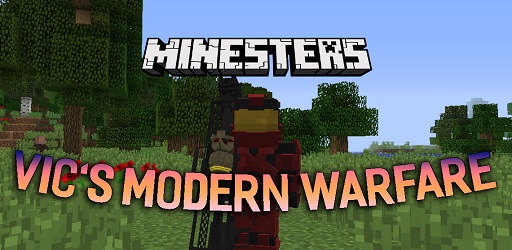 Description about Vic's Modern Warfare
Vics Modern Warfare: Best Minecraft Mod for Zombie Apocalypse
Vics Modern Warfare is one of the popular Minecraft mods that belongs to the modern category. With over 6,500,000 downloads, Vic's Modern Warfare provides a ton of new guns with custom and high-quality animation, various types of grenades, and a bunch of attachments. If you're looking for some modem war weapon mods to install in a modpack, Vic's Modern Warfare mod is one of the best choices right now!
Within Vics Modern Warfare mod, you can literally get any guns like the AK47 to the M51 machine gun. They fall off into different categories like Assault Rifles, Battle Rifles, Handguns, Marksman Rifles, Shotguns, Sniper Rifles, Rocket Launchers, Machine Guns, and a lot more! Not only does each gun in Modern Warfare mod have its own custom model and functionality, but also the animation when firing or reloading is just too smooth and super realistic. Minecraft Modern Warface mod also provides attachments, which are parts that you can use to attach to your guns and upgrade them. Either to improve the accuracy, reloading speed, or increase damage.
Not only provide guns and ammunition, but Modern Warfare Minecraft mod also adds custom armors and power suits from famous games like Fallout and Halo, to fit the mod theme even more! With that being said, the Vic Modern Warfare mod has a lot of functions that you should be aware of like the reload key, zoom key, change shooting mode key, attachment mode key, prone key, and night vision key. Those settings can be easily changed in Minecraft Vics Modern Warfare by going to the Setting menu. So what are you waiting for? If you're a fan of guns and modern weapons, feel free to try Minecraft Vic's Modern Warfare out, and make sure to download both Forge and Optifine to play this mod.
Require
Note: Need to install more required mods to use the best Mods, all must use the same version
How to install Vic's Modern Warfare
Make sure you have Forge Mod installed
Search and download any mod you like on our website.
You will get the .jar file after downloading, copy the file.
Press Window + R, type %appdata%, press Enter.
Navigate to the .minecraft folder, then to the mods If you don't have a mods folder, create one, paste the .jar file inside the mods folder
Download Vic's Modern Warfare