Weather, Storms & Tornadoes 1.12.2
The Minecraft Weather Storm mod adds a natural weather system in-game in addition to the regular rain and snow. Lightning and hurricanes are among the storms.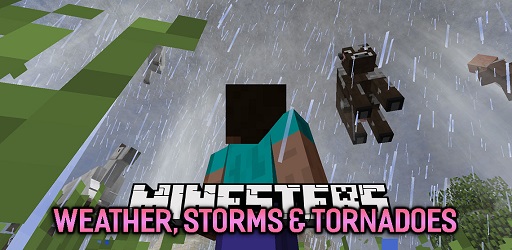 Description about Weather, Storms & Tornadoes
Minecraft Weather Storm – Adds Ambient Enhancement to Minecraft Weather
The Minecraft Weather Mod is a must-have if you're tired of the vanilla Minecraft weather and challenges that have become old and boring. These mods introduce strange weather and storms to Minecraft, infusing the game with a sense of dread at the hands of Nature and making it a tough challenge for each and every player.
For Minecraft players who have imagined being caught in a raging Minecraft tornado or storm while playing the game, this is the mod for them! With a plethora of new weather possibilities, this is a really enjoyable mod to include in the game. Storms will spawn at random, much as snow and rain do. However, they will spawn more often in some locations than others.
Rain clouds will collect over locations with greater water, bringing rain to the surface. Additionally, you may manually summon storms using commands or the newly introduced Machine Block, which can deliver a range of storms based on the settings you choose to use.
The best part of the mod is that it adds a wind vane and an Anemometer to keep track of the directions and wind speed. Forecast blocks are provided to help you determine what kind of storm is on its way. It is an excellent mod for adventurers since you will encounter several difficulties due to the wide range of weather conditions.
Require
How to install Weather, Storms & Tornadoes
Make sure you have Forge Mod installed
Search and download any mod you like on our website.
You will get the .jar file after downloading, copy the file.
Press Window + R, type %appdata%, press Enter.
Navigate to the .minecraft folder, then to the mods If you don't have a mods folder, create one, paste the .jar file inside the mods folder
Download Weather, Storms & Tornadoes