Ever want to fly in Minecraft? Or having wings in Minecraft without an Elytra? In this article, we will introduce a popular Minecraft mod called Wings.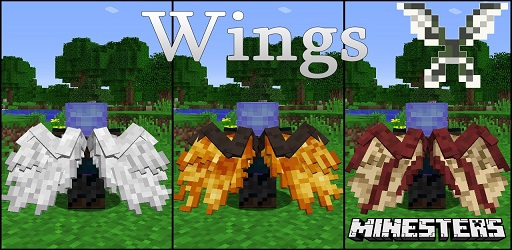 Description about Wings Mod
Minecraft Wings: Flying in Minecraft with 9 New Pair of Wings
Minecraft Wings is a Minecraft mod that provides 9 new wings into the game, allows you to freely fly to quickly travel around the world. Different than an Elytra, flying in Minecraft Wings mod is much easier since it doesn't require rockets to fly. And the wings are way cooler than a vanilla Minecraft Elytra. With over 2,500,000 downloads, you know how popular the Wings Minecraft mod is even though there is already a wing in Minecraft.
Wings mod Minecraft add 2 new ore types which are Fairy Dust ore and Amethyst ore. They are an essential ingredient to crafting new custom wings. In Minecraft mod Wings, there are 9 wings, and all of them require 4 gold ingots, 1 diamond, 1 fairy dust, and 2 different ingredients depending on each wing. For example, you can use 2 flowers to craft a Fairy Wing, or 2 bat blood to craft Minecraft Bat Wings. One of the wings requires an Amethyst so be sure to keep them. Since Amethyst is just as rare as diamond.
Flying in Wings mod for Minecraft is pretty easy! You can just press the hotkey (which is "R" by default) and you will be able to fly in the direction you're looking at. The only sad thing about Minecraft Wings mod is the mod is not getting updated anymore. So if you're planning to play this, we'd recommend you try out Minecraft Wings mod 1.12.2 or 1.16.5 version for a better experience.
How to install Wings Mod
Make sure you have Forge Mod installed
Search and download any mod you like on our website.
You will get the .jar file after downloading, copy the file.
Press Window + R, type %appdata%, press Enter.
Navigate to the .minecraft folder, then to the mods If you don't have a mods folder, create one, paste the .jar file inside the mods folder
Download Wings Mod
Compatible Version