Xaeros Minimap Mod 1.18.2 → 1.12.2
Xaero's Minimap Mod is simple and complements the rest of the game's look and feel extremely well. You may manually define waypoints, and even death spots will be made if you die.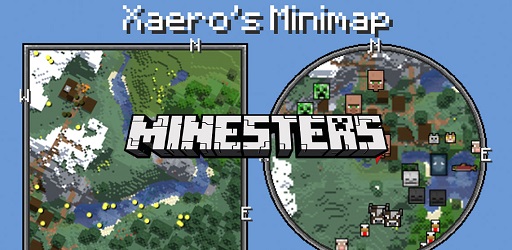 Description about Xaeros Minimap Mod
Improve Your Minecraft Journey with Minimap from Xaeros Minimap Mod
Xaeros Minimap is one of the best out there. Xaero's Minimap is a Minecraft mini-map mod that enables players to navigate the world using a real-time map. It features a simple user interface that fits in with the rest of the Minecraft world. Even if you die, you'll be able to set checkpoints yourself, and even death spots will be recorded. It can also be customized according to your specific requirements.
The fact that this Minimap detects when you are underground is one of its most appealing features. This is really useful if you're traveling through caverns or abandoned mines and need a fast reminder of where you're at to proceed. Using this in combination with waypoints ensures that you will never be lost again.
The customized settings are what distinguishes this map as genuinely unique. You have the ability to customize the size to your preferences. If the display is set correctly, players, objects, and monsters can all be seen on the HUD. You may even shift it around to wherever it is most convenient for you. It is possible to construct waypoints to make traveling quickly much more convenient, and all it takes is a single keystroke.
They can be constructed in a variety of methods, the easiest of which is by hitting the B key, which will show up a menu for selecting and altering coordinates and other information. Once everything seems to be in order, select the confirm button, and your new waypoint will be stored in a convenient list that can be accessed by hitting the U key.
Require
Note: Need to install more required mods to use the best Mods, all must use the same version
How to install Xaeros Minimap Mod
Make sure you have Forge Mod installed
Search and download any mod you like on our website.
You will get the .jar file after downloading, copy the file.
Press Window + R, type %appdata%, press Enter.
Navigate to the .minecraft folder, then to the mods If you don't have a mods folder, create one, paste the .jar file inside the mods folder
Download Xaeros Minimap Mod
Compatible Version
1.18.2 - 1.18.1 - 1.17.1 - 1.16.5 - 1.16.4 - 1.16.3 - 1.16.2 - 1.15.2 - 1.14.4 - 1.12.2