Astral Sorcery 1.16.5 → 1.12.2
Astral Sorcery is a magical mod that makes use of the power of the night sky and the stars to cast spells. Explore the earth and the skies above you.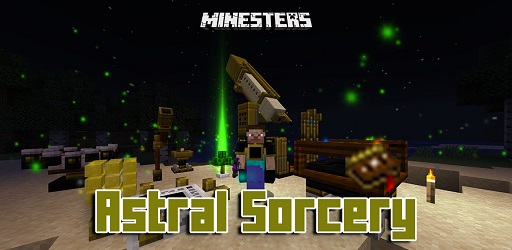 Description about Astral Sorcery
Harness the Power of Starlight and Constellation in Minecraft with Astral Sorcery
Astral Sorcery will take us to a realm where magic is constantly present. The mod is built on the energy of the stars and constellation, and it makes use of their power, known as starlight, to increase the abilities of our character or to make the world a better place.
Astral Tome is an in-game guide provided by the mod itself, and if you read it properly, it will lead you through the majority of the mod's content. It is necessary for good advancement in the world to have certain structures in place, and these can be seen inside the astral Tome. In this Magic mod, the research and magical abilities that you may gain will vary or differ very greatly.
This magic mod is primarily based at night, but you can do things in the daytime as you progress through it. If you have Astral Sorcery installed, it is highly recommended to use some kind of mapping program that's going to help you a lot. If not, you're going to need to know the option to press F3, and this is going to help you a lot from the kind of mapping program.
If your Journal got destroyed or lost, you need to make a new one, not to worry, you can make another one, and you don't need to have access to any magical power. Some things you will find in this mod are faint amaranth. When you punch, it will give you a glowstone you can also harvest in pair of shears. It is just a decorative thing and gives easy access to getting yourself some glowstones. Make sure you download and explore the infinite possibilities.
Require
ObserverLib
Note: Need to install more required mods to use the best Mods, all must use the same version
How to install Astral Sorcery
Make sure you have Forge Mod installed
Search and download any mod you like on our website.
You will get the .jar file after downloading, copy the file.
Press Window + R, type %appdata%, press Enter.
Navigate to the .minecraft folder, then to the mods If you don't have a mods folder, create one, paste the .jar file inside the mods folder
Download Astral Sorcery
Compatible Version