Diversity 2 Map 1.18.1 → 1.17.1
Diversity 2 is a CTM Minecraft map. There are different genres like parkour, dropper, adventure, survival, puzzle, area, trivia, escape, labyrinthian, and boss battle!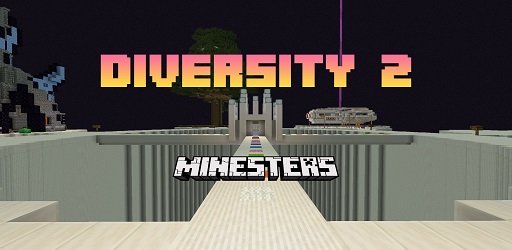 Description about Diversity 2 Map
Diversity 2: Top Minecraft Complete The Monument Map (CTM Map)
As we may know the popularity of the Diversity map, the Diversity team continue their success with another series of Diversity, called "Diversity 2". With over 2,500,000 million downloads and 650 builders, this custom Minecraft map will bring you some real challenges and a new mood into the game!
Diversity 2 Minecraft is a Complete The Monument (CTM) map type, which mean the only goal is to complete the monument by competing in various challenges in a lot of different genres like parkour, dropper, adventure, survival, puzzle, area, trivia, escape, labyrinthian, and finally, boss battle!
Each challenge in the Diversity 2 Minecraft map will take you quite some time to complete, and after each completion, you acquire a new block of wool with different colors depending on the challenge type. Later on, you need to place the wool in the chest to slowly complete the whole map. With each map being in a different time and theme, you will be charmed into the supreme of Diversity 2.
Because of the uniqueness and the complexity of the Minecraft map Diversity 2, you must follow certain requirements to make sure you can fully experience the map like don't change game mode or using any commands. And you need to have a medium computer to increase the render distance up to at least 10 chunks. And a default Minecraft texture pack is recommended. At first glance, it may seem complicated just for a single Minecraft map. But trust me, Minecraft Maps Diversity 2 is totally worth it!
How to install Diversity 2 Map
Find and download any map you want from our website.
Usually you will get a zip file after downloading any map. Just unzip that file (if you can't extract you might want to install Winrar)
After extracting, you will see several folders. Carefully select the correct folder and copy (Ctrl + C) it.
Press Window + R, type %appdata%, then press Enter.
Navigate to the .minecraft folder, then to the save
Paste (Ctrl + V) your map folder here.
Start Minecraft, when you select Single Player, you will see downloaded maps listed here along with your world.
Download Diversity 2 Map